Are Florida storms getting worse? What has been the effect of Florida storms and hurricanes? Among having the Everglades, being home to the manatee and supplying a job market for mermaids, Florida also enjoys the unique distinction of being the target of more storms than any other state in the country. More storms have hit Florida than any other state, and since 1851 there have been only eighteen storm seasons to pass without a named storm impacting the state.
The cumulative impact from Florida storms is $141 billion. There have been 10,000 deaths.
Florida storms are a major factor in our state and if you live in Florida, it is guaranteed that you will be impacted by Florida storms.
Here is a look at some of the most memorable of Florida storms and their impacts:
The Labor Day Hurricane: One of the most unpredictable of Florida storms
This infamous Florida storm passed through the Bahamas as a small unnamed storm in In August of 1935. But by the time this storm reached the Florida Keys it had become a major devastating category 5 hurricane.
No one predicted this Florida storm would strengthen as it did.
The Labor Day Hurricane, as it became known, killed more than 400 people, leveled buildings in the Keys, and destroyed roads and other infrastructure.
The most lasting lesson of this hurricane is that Florida storms are unpredictable.
Hurricane Donna – A Florida storm that wouldn't go away
Donna has the distinction of being the only hurricane among Florida storms that affected every state along the United States east coast. Florida however, received the most damage from this 1960 storm.
Hurricane Donna made landfall on the Florida Keys as a category 4 hurricane. This Florida storm then moved into the Gulf of Mexico, turned back toward Florida, and made landfall a second time on the Florida coast neat Fort Myers – still as a category four hurricane.
This Florida storm then crossed the Florida panhandle and moved up the east coast of the United States before it finally moved back into the Atlantic
Hurricane Andrew – The largest legacy of Florida storms.
Andrew blew into South Florida directly from the Atlantic as a Category 5 hurricane with sustained winds of 165 miles per hour and gusts up to 177.
Andrew also caused a 17-foot storm surge and wiped out the Miami suburb of Homestead.
The United States suffered losses of $26.5 billion, the majority of which occurred in South Florida.
Hurricane Andrew may have left the largest legacy of any Florida storms. The hurricane uncovered shoddy building construction and led to major changes in residential building construction codes.
This Florida storm also led most major insurance companies to flee the state and resulted in the creation of the state-owned insurer known as Citizens.
2004: Four Florida Storms
Florida storms of 2004: Hurricane Charley – In August of 2004, Hurricane Charley mowed down the small gulf coast town of Punta Gorda.
Charley was a category 4 Florida storm with winds of 150 mph.
Charley was originally forecast to make landfall in the Tampa Bay area, but defied forecasters and made a turn to the east.
This storm was the first and strongest of four Florida storms to hit Florida in 2004.
Charley caused 10 deaths in the United States and about $14 billion in damages.
Florida storms of 2004: Hurricane Frances – The following month on September 5, Hurricane Frances made landfall on Florida's southeast coast as a category 2 Florida Storm.
Frances moved across the state into the Gulf before returning to the state and making a second landfall as a tropical storm.
Florida Storms of 2004: Hurricane Ivan – Just eleven days after Hurricane Frances, on September 16, Hurricane Ivan struck the eastern most part of Alabama, and caused extensive damage to Alabama and the Florida panhandle with winds up 120 mph.
This Florida storm moved north over the southeastern United States and into the Atlantic. The storm re-strengthened to a tropical depression, turned back to Florida and made another pass over South Florida. 
Ivan eventually moved back into the Gulf of Mexico and made its last landfall in Louisiana.
Ivan was one of the deadliest of Florida storms claiming 92 lives and causing 13 billion in damages.
Florida Storms of 2004: Hurricane Jeanne – Hurricane Jeanne devastated the Caribbean killing 3,000 people in Haiti.
Jeanne eventually made landfall as a category 3 hurricane on the southeast coast of Florida.
This Florida storm travelled through the southeastern United States and caused more than $6 billion in damages.
2005: Two major Florida storms
Hurricane Dennis: Hurricane Dennis roared onto the Florida panhandle with 120 mph winds.
This Florida storm killed dozens and caused more than $2 billion in damages
Hurricane Wilma: A relatively late season Florida storm, Hurricane Wilma made landfall near Naples and stayed strong as she moved straight across the state. When Wilma entered back into the Atlantic she was still a category 2 hurricane.
Wilma caused about $15 billion in damages in Florida.
2017 Florida Storms: Hurricane Irma
Hurricane Irma is one of the most destructive of Florida storms in recent memory and many residents are still dealing with its effects.
According to the National Oceanic and Atmospheric Administration, Irma caused:
6.3 million people evacuated from Florida (the largest in US history)
65% of houses in Florida Keys were damaged and 25% were destroyed
15 million people without power in Florida
70,000 square miles impacted by Hurricane or Tropical storm force winds (The State of Florida is 65,000 square miles)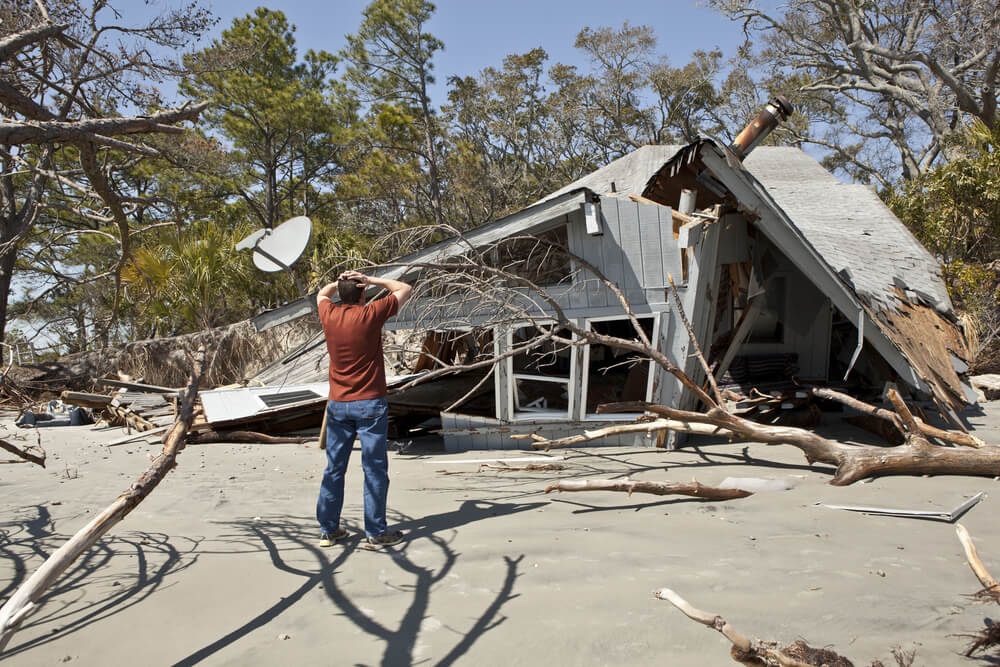 2018 Florida Storms: Hurricane Michael & Hurricane Florence
Hurricane Michael and hurricane Florence caused tremendous damage to the East cost of the US. While Florence affected North and South Carolina, Hurricane Michael dumped its wrath of rain and brutish wind on North Florida and parts of Georgia. Here's the damage:
Florida Storms of 2018: Hurricane Michael – According to Vox: The floodwaters are finally starting to recede from Hurricane Florence, a storm that dumped upward of 35 inches of rain in places and more than 10 trillion gallons across North Carolina, South Carolina, and Virginia. The storm was a 1,000-year rain event, damaging thousands of structures, including toxic animal waste containment sites, which sent bacteria and hazardous chemicals into the water. At least 50 people died as a result of Florence and damages estimates run as high as $22 billion.
Storms of 2018: Hurricane Florence – With damage costing counties up to a sum of $13 billion, Hurricane Florence has definitely left its mark on the residents of South Carolina and North Carolina.
What to expect from Florida storms in 2019?
The 2018 hurricane season runs from June 1,2018 to November 30, 2018, and forecasters are predicting above average storm activity.
While the official 2018 Hurricane Season forecast from NOAA isn't made until May of 2018, forecasters are predicting 15 tropical storms, seven hurricanes and three major hurricanes.
Florida Storms 2019: Be prepared
One thing is certain, Florida storms are a fact of life for Florida residents. Be prepared, have a plan, execute it early. Stay informed and we will all make it though another year of Florida storms and call Bulldog Adjusters for a free inspection on your home damage!