If you live in an area that goes through a 'hurricane season', then you know how devastating and damaging these storms can be. From torn off roofs to flooded first floors, hurricane damage is disastrous. The physical signs of damage are overwhelmingly tragic- you can see the chaos right before your eyes. But did you know that there is the possibility that your home was affected by hurricane damage that your eyes can't detect? In fact, hidden hurricane damage can be more of a detriment to your home's integrity than noticeable damage.
Below are some examples of hidden hurricane damage and the signs, causes, ways to check for it, and what you should do if you think that your home is at risk.
Compromised Water Supply
After a hurricane, it may not be safe to drink faucet water, whether you get that water from a groundwater system or from a well. When a hurricane hits, it can contaminate the water supply so much that drinking or even using water can make you ill.  
Causes
The main causes of water supply contamination after a hurricane is that a hurricane brings an overwhelming amount of rain with it.
Rain water contains a multitude of chemicals and pollutants including animal waste, oil and gas particles, and even the bacteria E. coli. When a hurricane hits, there is a massive surge of water that overwhelms water supplies and wells with dangerous and dirty contaminants.
Where to Look
It is advised that you check every faucet or water source in your home, even the toilet. If you have a well water system, it is especially important that you check there first.
What to Look For
When inspecting faucets, you should run the water for a bit and examine whether or not you see any discoloration or smell any offensive odors. Typically, though, contaminated water cannot be spotted with the naked eye.
What to Do
The most important thing to do after a hurricane is to watch or listen to local news stations. If you use a general groundwater system, your local news will alert you if it is safe to use the water, if it needs to be boiled before use, or if you should avoid use altogether. 
If you have a well, it is important to call a professional for an inspection. There are special tools that use innovative technology to measure the level of E. coli and other dangerous organisms in well water. 
Regardless of which water system you used, it is safest to buy and use a water purifying and filtering system for any water you plan to ingest.
Ceiling Mold
Aside from obvious roof damage like torn shingles or gaping holes, your roof and ceiling still could have sustained hurricane damage. Specifically, mold can grow in the ceiling and diminish the air quality in your home which, in turn, can make you and your family sick.
Cause
While wind tends to be the cause of noticeable roof damage, rain is the cause of hidden roof and ceiling damage.
Your roof shingles can only hold so much water until they become completely water-logged. Once a shingle or section of shingles becomes waterlogged they are almost infinitely wet. This constant moisture mixed with humidity that accompanies hurricanes is the perfect breeding ground for hazardous mold that begins on your rook and creeps its way into your home. 
Where to Look
To look for ceiling mold, it is important that you look at the ceiling of your house while you are indoors. And, it is even more important that you go onto your roof and examine every shingle.
What to Look For
When you are inspecting your ceiling, look for any discoloration, sagging, or watermarks. 
When you are inspecting your roof, look for any shingle that appears to be darker in color than those around it. The dark coloring typically means that that shingle is water-logged.
What to Do
If you suspect that you may have ceiling mold, the best thing you can do is call in a professional. Mold can be dangerous, especially when you can't see it. Don't go tearing off shingles or repainting your ceilings because this can send mold spores throughout your entire home.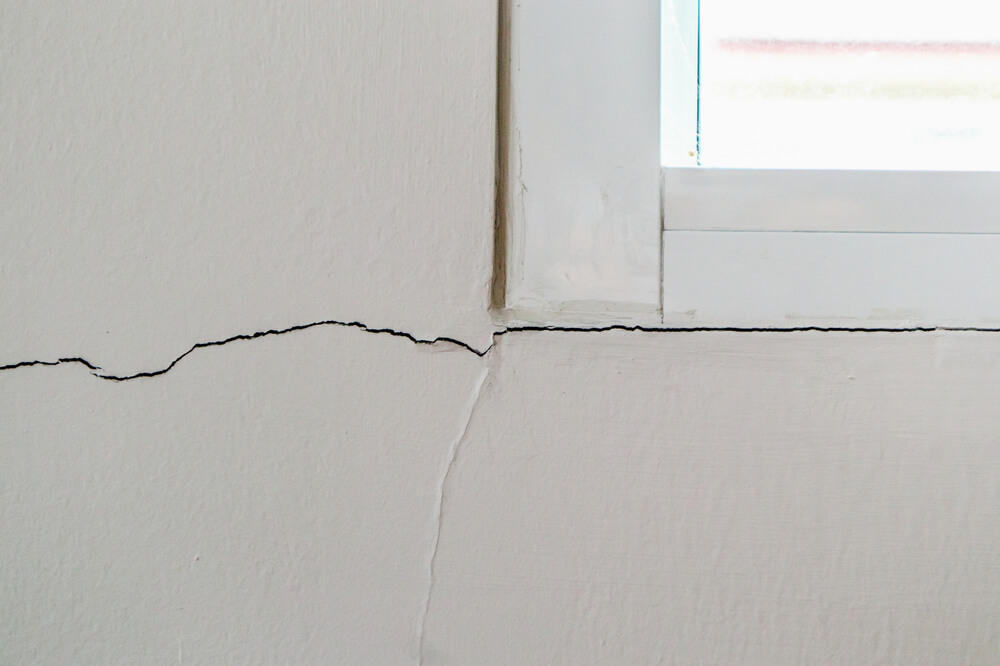 Compromised Exterior Wall
It is possible that the walls that separate your home from the outside world can be damaged, even if they are still standing and appeared unharmed. Hidden damage to the protective stucco coating on your exterior wars can compromise the integrity of your entire home.
Cause
Extreme wind and heavy rain come together to compromise the integrity of your home's exterior walls. Strong winds slam heavy rain into the sides of your home for hours on end like an endless power wash.
Where to Look
If you want to be thorough, you should look at every square inch of each exterior wall around the entire perimeter of your home. There is no such thing as over-looking or spending too much time when your home's stability is at stake.
What to Look For
You should, of course, look for any big signs of damage like large cracks and holes.
However, damage to the protective layer on exterior walls can be difficult to see. You should look for any spots of discoloration. Even if an area just looks 'dirty' it may be hidden damage disguised as normal wear and tear.
You should also touch your exterior walls and see if any stucco crumbles off. Also, if you see small cobweb-like lines on the walls, this is an indication that there is hidden damage.
What to Do
There really aren't any good DIY hacks for fixing exterior walls with hurricane damage because this is not an area where you want to take short cuts. Use tape or something similar to demarcate areas you believe may be damaged and call a professional – your preferred public adjuster or a contractor – immediately.
Deck or Porch Damage
If you looked outside after a hurricane and saw your deck and porch fully intact, you may have felt relieved that neither sustained any damage. However, you should still check your deck or porch for hidden damage that can lead to future collapse.
Cause
The massive amounts of water that rain down from the sky during hurricanes are at fault in instances of deck or porch hidden damage. Your deck or porch becomes so drenched with water that the wood is weakened, even if it still appears to be intact.
This can lead to wood rot that worsens over time and causes parts of your deck or porch to collapse right under you as you walk.
Where to Look
It may seem tedious, but you should check every single wooden plank that makes up our deck or porch. If you can, you should also check underneath your deck or porch.
What to Look For
If your deck or porch is painted, you should look for chipped or missing paint. This would indicate that the rain disrupted that area of your deck or porch and that there may be hidden damage in that same area.
You should also look for any wooden planks that are drooping or curved downward, as this would indicate that they are heavy from being water-logged.
What to Do
If you find signs of damage to your deck or porch, you may not feel a sense of urgency to get it inspected. However, it is important to address damage as it happens. The longer you wait to repair deck or porch damage, the more likely it is that the damage will spread and cause the whole structure to collapse.
Window Damage
Just because a window isn't shattered or cracked doesn't mean that your windows did not sustain any damage. In fact, there are a lot of ways your windows can sustain hidden damage from a hurricane.
Cause
Strong winds are the main cause of hidden window damage sustained from a hurricane.
Winds are so strong during a hurricane that they can cause little gaps around the base of the outside window pane and even shift the entire window pane altogether.
Where to Look
No matter how big or small, you should check each window in your home. Since hidden window damage is less obvious you need to take extra care to check all the corners and crevices around your windows, on both the inside and outside of them.
What to Look For
This type of damage is hard to find even when you are looking for it.
If you have a double-paned window, you can check if you can spot and condensation or humidity in between the two panes.
If you do, this is a pretty clear indication that your window shifted due to strong winds.
What to Do
If you suspect that your windows sustained damage, you should board them up from the outside to prevent any rain or air from getting into your home.
You should then call an inspector to confirm that there is damage and come up with a plan to fix the damage.
Outlet Damage
In general, electrical damage is hard to see. The most obvious way to test if your outlets are damaged is to plug something in and see if it works. But, it is possible for an outlet to continue to work even though it is damaged.
Cause
Rain water, flooding, and humidity are the main causes of outlet damage. Any moisture that gets into outlets, even if it is a small amount of water floating around as humidity in the air, can cause rust to form.
Over time, rust continues to corrode until you plug something into an outlet you thought was working and short circuit your entire home.
Where to Look
You can look at every outlet in your home, even the ones that are higher from the ground.
What to Look For
Typically, the rust begins inside of the outlet and not on the outside. However, you should still look for any obvious rust-like discoloration on your outlet covers.
It is also important to note that eroding outlets typically have inconsistent electricity. So, you can plug a lamp into your outlets and see if it flickers.
What to Do
Electricity and water do not go well together, and if you suspect that water damaged your outlets you should call an electrician immediately. Do not use that outlet, and if possible, do not use any outlets until the electrician comes.
Foundation Damage
The worst damage your home can sustain is foundation damage. Your foundation holds up your entire home, and the erosion of your home's foundation can destroy your entire home.
Foundation damage is hard to spot, in general, but it is especially hard to spot after a hurricane when debris is everywhere and your home's foundation may be obscured by.
Cause
Home foundations are typically made using sturdy concrete, but even this strong building material is not immune to the effects of prolonged rain exposure. Rain becomes absorbed in the concrete and weighs it down until it eventually cracks or warps.
Where to Look
You should look around the perimeter of your home, under your deck or porch, and in your crawl space if you have one.
What to Look For
You should look for cracks or flooding and pooling. You should pay extra attention to whether or not your crawlspace was flooded at some point during the storm.
Overall, though, foundation damage is often impossible to spot until it is very severe.
What to Do
If you see cracks or a lot of pooling water around your home, you should call a public adjuster to assess if there is any real damage.
If your crawlspace is still flooded after the storm clears, you should photograph the damage, but refrain from trying to empty out the water while you wait for the inspector to come. 
---
Overall, there are a lot of ways for your home to sustain damage that your eyes cannot automatically detect. From your ceiling, windows, and roof to your water supply and foundation, hidden damage is just as severe as visible hurricane damage.
If you suspect, even for a second, that your home succumbed to one or more of the hidden damages mentioned, the best thing you can do is call a public adjuster for a free damage inspection and help with the insurance claim process. Hidden damage is hard to find and even harder to fix, and trying to address these issues yourself can be even more detrimental to your home.
Even if you don't see any signs of damage to your home after a hurricane, it is still possible that your home needs help. Don't wait until it's too late, help your home by taking care of it after it weathered such a strong storm. 
If your home or condo has been damaged in a storm or another disaster, reach out to Bulldog Adjusters. Not only do we do free damage inspections and estimates, but we get you the biggest possible settlement from your insurance company!