Fire damage cost is a real risk for homeowners. A home fire can start in several ways – kitchen accidents, lightning, electrical, appliance malfunction. So, what is a fire damage cost for homeowners?
Fire damage cost can be high and variable. A homeowner will typically pay between $3,000 and $26,000 for fire damage in their home. This includes the cost to remediate fire and smoke damages. The average fire damage cost for a homeowner is almost $12,000.
A fire is a costly home catastrophe. There is damage caused by the fire, the smoke as well as water damage from extinguishing the fire. 
The fire damage cost depends on many variables including:
How much property was damaged by smoke
The extent of the water damage from containing and putting the fire out
Out of pocket costs that are dictated by your insurance policy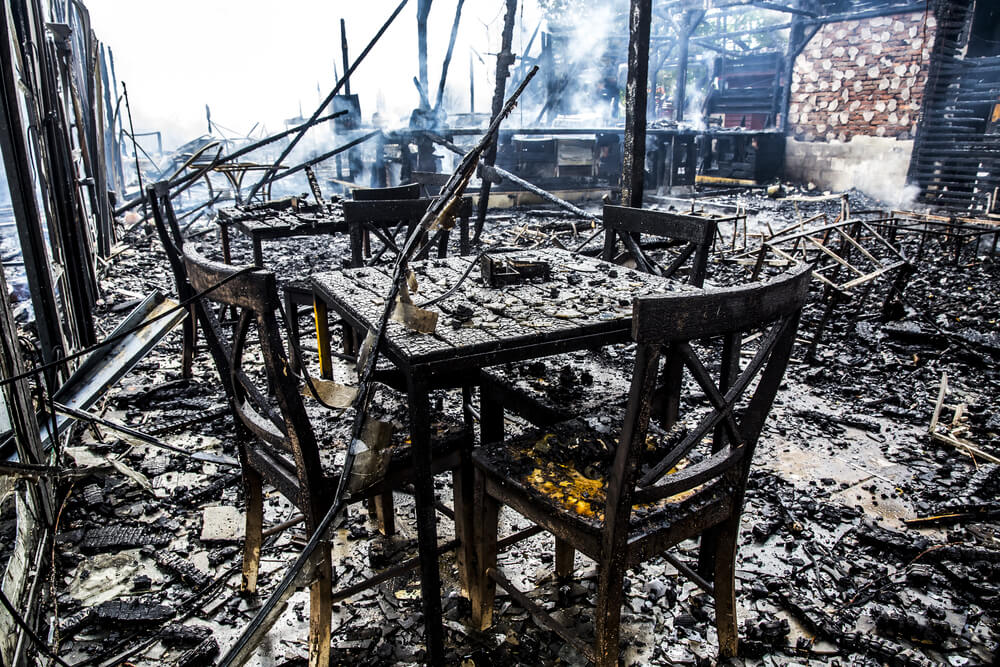 Miscellaneous Fire Damage Cost
There are also miscellaneous fire damage costs to consider when preparing yourself for this type of claim.
Extra living expenses: Your house may not be habitable for some length of time after a fire. You may have to live in a hotel or secure rental accommodations while remediation and repair are completed on your home.
Storage: You may have to store your property somewhere while your home is undergoing repairs. This could be especially important if you are staying with friends or in a hotel. You may have the extra expense of storing your property. Storage can quickly add to fire damage cost.
New property: There is, of course, the expense of replacing your property. While most homeowner insurance policies offer coverage for the replacement of personal property, part of a fire damage cost will be your out of pocket expense. Some companies will issue payment only for the depreciated value of personal property until you can show evidence the property was replaced. After you replace the property, the company reimbursed you for the replacement cost. 
Fire Damage Cost: Clean Up and Water Damage
Putting out a fire requires a lot of water and special chemicals the fire department uses to put the fire out at your home. This mix of water and fire retardant chemicals can cause extensive damage to your home and furnishings. Also, after the fire is put out, the water and chemicals must be cleaned up.
This process is often referred to as remediation. Water from fire hoses can soak furniture and carpeting in your home. Water damage on floors and walls must be addressed quickly to avoid the risk of mold growth.
If chemical fire extinguishers were used, there is the cost to clean these chemicals from your property as well. They must be removed and cleaned properly because the chemicals can leave a residue on everything in your home.
Fire Damage Cost: Removing Soot
Where there was fire there is soot. Soot is simply the organic matter that is not burned completely during a fire in your home. Removing soot can be an expensive part of the fire damage cost to the homeowner. 
Soot must be removed completely because it can penetrate just about anything in your home and add to the fire damage cost. It can get into furniture, carpeting, clothing and other textiles. It can even penetrate walls. The longer soot is left in the home, the more it can penetrate and the more damage it can cause.
Smoke Damage: A Large Fire Damage Cost
Once water damage repair and soot removal are completed, it's time to address smoke damage from a fire. The key to addressing smoke damage is to remove any harmful or disturbing smell before it gets worse or does permanent damage to your home and belongings.
Smoke damage continues to get worse if it is left untreated. It can be a major fire damage cost because it must be addressed completely. Smoke restoration is completed by deodorizing the home and property, using ozone smoke removal and cleaning the home's HVAC system.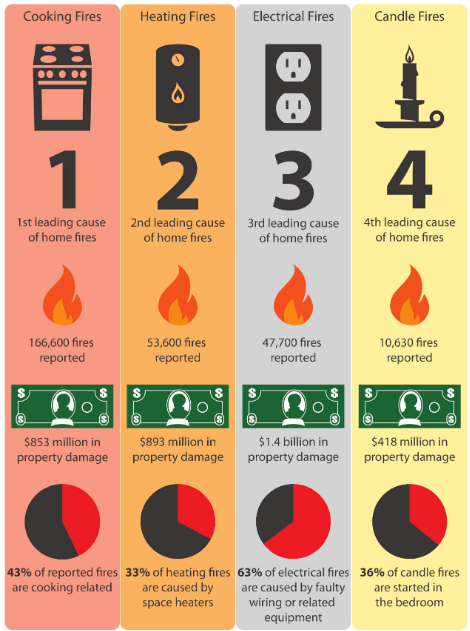 Fire Damage Cost and Remediating Textiles
Smoke can be the most damaging element of a fire to get into any fabric in your home. Professionals can use deodorizing techniques to rid your furniture, carpet, drapes and other textiles of the odor from smoke damage. 
A technique known as thermal fogging can be used to rid your home of smoke odors after a fire. Thermal fogging uses a chemical that removes permanently any odors in the home.
Fire Damage Cost: Safety and Preparedness
The fire damage cost can add up quickly and can result in a large insurance claim as well as major out of pocket expenses for homeowners.
The best way for homeowners to avoid a problem is to practice good fire safety and preparedness.
Smoke detectors: Smoke detectors are the first line of defense against a home fire. If a fire does break out in your home, a smoke detector will alert you to the danger quickly and efficiently. Smoke detectors are inexpensive and can be placed in every room in the home. This will help to keep you and your family safe should a fire should break out in your home. Keep in mind batteries in smoke detectors must be replaced periodically. 
Fire Extinguishers: A fire extinguisher can help keep fire damage cost down. A home fire extinguisher kit can be useful in the garage or kitchen. Some extinguishers use corrosive chemicals, so make sure you get a fire extinguisher that is right for your home.
Sprinkler system: A sprinkler system may be a good investment to keep fire damage cost down for homeowners. They work by immediately extinguishing a fire before it can grow and do major damage.
Fire Damage Cost is a Major Catastrophe for Homeowners
Fire damage cost can be significant to a homeowner. Depending on the damage, a homeowner can face costs to clean up water damage and soot damage. There is also the cost to extract smoke odors. Homeowners also can face miscellaneous expenses such as insurance policy deductibles, and out of pocket expenses to repair or replace personal property items.