Every home contains some mold and most of the time it doesn't cause a problem. Most types of household mold aren't harmful to your health. But how can you tell if the mold in your home is a problem?
Mold can often grow unchecked because it thrives in moist dark places. And moist dark places aren't places we usually look.
There are specialists that can conduct mold inspections of your home and tell for certain where there is mold in your home. Still, there are some signs you can look for that may indicate there is mold in your home.
1. Water Damage: A Strong Sign You May Have Mold
Areas in your home that have suffered water damage should be checked thoroughly for mold. This could be an area of your ceiling from an old roof leak, or under your kitchen sink after a plumbing leak.
Mold can grow on a moist area in as little as 48 hours. So, if there are areas of your home that have seen some water damage, give them a good look for signs of mold.
Keep in mind that water damage can appear in several ways. It can show as discoloration. It can also cause wallpaper to peel or paint to bubble. It may even cause warping in your walls, ceiling or floors.
If your home was flooded and left wet or damp for more than 24-48 hours, there is a good chance some mold has taken hold on the affected areas.
2. Use Your Senses for Signs of Mold in Your Home
Mold can often be smelled before it can be seen. Mold can have a musty odor that may be noticeable when you arrive home or enter a certain part of the house, such as a closet or the bathroom.
Sometimes an odor will be the only sign of mold you can detect. If you smell a musty odor in your home be sure to investigate further for mold.
Sometimes mold growth can be seen. Mold doesn't only grow hidden away in insulation or attics. Mold can grow right out in the open. Visible mold can often be overlooked because it may not look like mold.
Mold can appear to be dirt or discoloration. Even small patches of mold can quickly spread and become a problem. At times, a small visible patch of mold can indicate a larger mold problem that may remain unseen.
Visible mold should be taken seriously and dealt with immediately, so it doesn't progress.
3. Water Leaks and Mold Growth
Water leaks are a pretty good indicator of mold growth. The trouble is they can often be difficult to detect. If you've had a water leak say from your washing machine or garbage disposal that leads to mold there would likely be visible signs under the sink or around the appliance. But water leaks often occur in places that aren't visible, and those types of leaks can lead to a problem with mold.
Be mindful of any water leaks in your home and repair and dry them out right away. Signs you may have a water leak include:
Sounds of running water even when the faucets are turned off
Peeling or bubbling paint on your walls or ceilings
Excessive moisture in your home
Water leaks must be contained, and the affected area must be dried out right away to prevent mold from growing.
4. Condensation in Your Home Can Mean Mold
Excessive humidity in your home can lead to condensation. Condensation can collect on walls, windows, and floors and create mold in your home. If you see areas of condensation in your home, dry them right away to prevent mold growth.
Steps can be taken to decrease condensation in your home including:
Keeping all interior doors open so air can circulate freely through your home
Installing a dehumidifier that will work with your air conditioning system to take moisture out of the air. A dehumidifier system can also keep your cooling costs down since drier air is easier for your system to cool.
The key to making your home mold resistant is to keep the moisture in your home under control.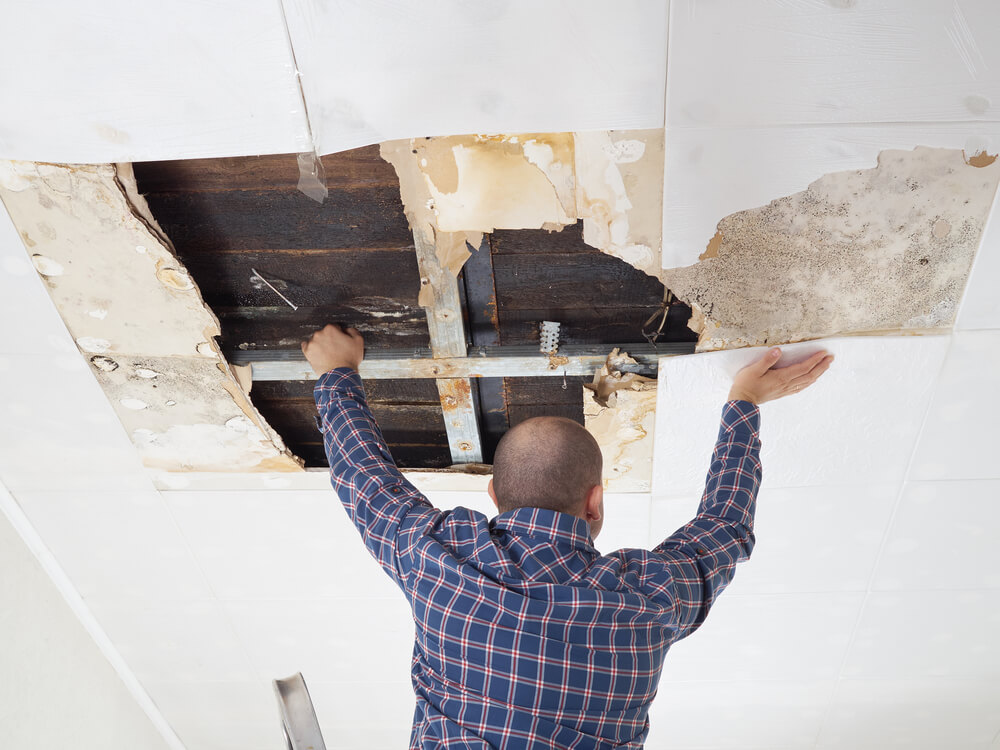 5. Allergies, Asthma, and Irritation from Mold
Mold can lead to respiratory problems including allergies and asthma. Mold spores travel easily and can quickly spread from one area of your home to another. Because mold spores can become airborne they can frequently cause respiratory problems.
A reaction to mold can begin immediately or it can take some time before the symptoms begin to appear. Asthma attacks or worsening of asthma symptoms may occur when there is excessive mold growth. Sometimes allergic-like symptoms can appear, including a runny nose, itchy throat, congestion, or even a cough.
Mold exposure can cause other irritations. Individuals that are sensitive to mold can suffer from eye, nose and throat irritation. This type of irritation can occur with people that have never had allergy or asthma symptoms before.
Other individuals often report eye, nose and throat irritation when exposed to mold. There may also be skin rashes. Some people report shortness of breath and even fever when exposed to mold.
While not everyone becomes ill from mold exposure there are certain populations that may be more at risk:
Infants
Children
Elderly
People with compromised immune systems
People with lung disease
If you suspect you may have a mold-related allergy or illness, there may be hidden mold in your home. Common places for such mold growth include drain pans, air conditioning systems, and water lines.
What to Do if You See Signs of Mold in Your Home
If you see signs of mold in your home, don't panic. Not all mold is dangerous. But mold can quickly become a major problem if it is left unchecked. So, keep your eyes out for signs of mold and act right away if you suspect there may be mold in your home.