Many of those who suffer from mold in their house or workplace may not realize that there is a whole range of health problems that are associated with its presence in a building. These effects range from fairly minor ailments to life-threatening conditions. Most of these problems are misdiagnosed, because they have a lot in common with other conditions, and can, therefore, remain hidden until the mold damage is identified.
The discovery of mold can also indicate that you have other structural issues with your home that need to be fixed. Luckily, there are some very effective treatments that not only remove the mold but also guard effectively against it coming back.
The best way to achieve this is to not only take care of the active mold spores in the space, but to use a method that prevents the conditions from occurring again.
Given the problems that mold can cause, it is best that you contact a professional to help you remove an infestation of any size, regardless of whether you feel you can handle it on your own or not.
There are a lot of safety measures that are recommended for those who remove and treat mold for a living, which should be an indication of how dangerous it can be, and how seriously you should take a mold infestation in your own space.
Let's take a look at 5 of the most unexpected dangers of mold damage.
Mast Cell Activation Syndrome
One of the most frightening conditions that can affect a person when they have an infestation of black mold in their building is mast cell activation syndrome. It majorly compromises the immune system, so there is a risk of secondary infections occurring, along with the symptoms of the condition itself.
Mold spores overload and weaken the person's immune system to such a point that the Mast Cells, which are responsible for the body's immediate allergic reactions, can cause an abnormal number of allergic reactions. The cells will release so many antibodies that they send residents into anaphylactic shock.
Your heart can be affected by this condition in a number of ways, ranging from a rapid pulse to low blood pressure or passing out. The damage can be chronic or acute, depending on how quickly you discover why the condition has occurred and take the necessary steps to remedy it.
Some more general symptoms of this syndrome include itching, hives, swelling, and redness. Your throat may be swollen, causing shortness of breath or harsh breathing. Diarrhea, nausea, or vomiting can serve as symptoms of this problem.
The symptoms of Mast Cell Activation Syndrome can make it hard to identify the sickness because they are so varied, and it is often mistaken for other conditions that present similar effects.
Neurological Problems
Long-term exposure to mold and the toxins that it produces can have some effects that are less easy to spot. Along with producing obvious allergic reactions on the surface, the presence of mold can make it hard for you to function mentally, leading to more permanent problems.
You may find your memory affected, as well as your concentration. Some people are exposed to mold for such a long time, with the problem going undiagnosed, because it looks like some other condition that they may be suffering from. This "brain fog" can be caused by the immune system being attacked by mold spores and mycotoxins. If you ever find yourself experiencing any of these problems, it is worth mentioning to your doctor that you have an issue with mold.
If the mold is not effectively removed from the space where the infestation was situated, people can find themselves moving back into a space where the spores are still present, and they will experience their health deteriorating once again. If you are prone to allergies caused by mold, or you have had previous conditions that have weakened your immune system, the ramifications can be even more serious.
The importance of finding a professional company which is not only expert at mold removal, but one which is conscientious about doing a follow up to make sure that the mold has been fully removed, and that all the spores have been rendered inactive, is paramount.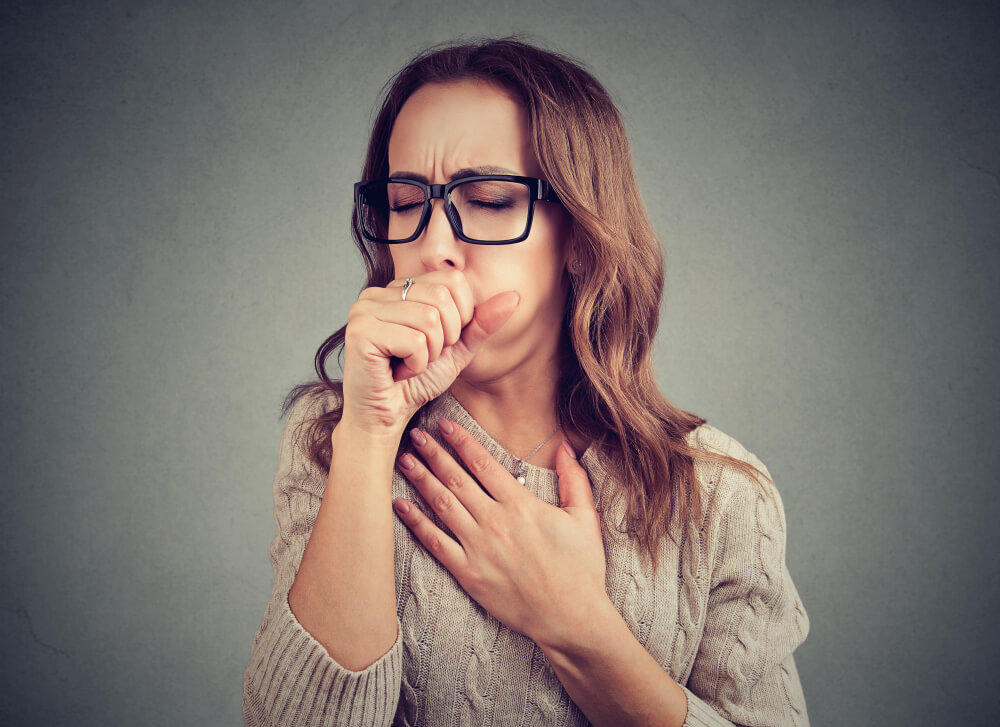 Respiratory Problems
As you can imagine, taking any foreign bodies into your airways can be problematic, but taking in something like mold spores that can actually grow and proliferate within your body is incredibly dangerous.
What can start off as sniffles, as a sore throat, or perhaps nasal drip, can be just the triggering of your body's early warning systems. If you are uneducated on all the ways that mold can affect you, or you have a pre-existing problem that worsens slightly, the mold problem may slide by under the radar.
Education of mold is becoming more prevalent, even though it has always been something that people are not aware of enough to look for. With a checklist of the possible symptoms and a notion that mold is in play somewhere in the background, the chances of it being caught early on are increasing.
You want to head it off at the pass, before the irritating cough or sore throat escalates into something much more serious with your entire respiratory system. There are treatments which can help with the presence of mold in your body, so if you suspect that mold may have played a role in the deterioration of your health, you should let your doctor know. At that point, they should be able to provide you with the best possible treatment.
Death
When you first encounter black mold, you may think that the smell and the way it makes your house look are the worst things about it. However, the extent to which black mold can harm you is much more terrifying. Not only is it capable of causing a number of syndromes and problems in the body, but prolonged exposure can actually cause your organs to shut down completely.
It also opens you up to other conditions that can target your weakened immune system, and can likewise prove fatal. On that note, it is key to identify the source of your problem as quickly as possible and handle it – not only in the building that it is infesting, but also within your own body.
If you have a pregnant woman in the house, not only is she vulnerable to the effects of the black mold, but her unborn baby is also susceptible to the effects of this airborne invader. It can cause miscarriages, birth defects, and even infertility later on. This is obviously something that no one should ever have to endure.
It is true that the young, the sick, and the elderly are most at risk for the serious effects of mold infestation, but it can have an effect on anyone. Over time, and with more exposure, you are liable to the risk of developing some of the more serious issues, as the level of spores and mycotoxins can build up in your system to a level where your body is unable to combat their effects. The spores are also able to grow in your body and can overwhelm your body's defenses.
You don't have to be human to be affected by mold either – your four legged friends are just as vulnerable to the bad effects that mold can have on all living creatures.
False Solutions
A lot of people, when they notice that they have a minor issue with mold, sometimes attempt to handle the situation themselves. One of the methods that many fall victim to is trying to kill the mold and clean it up by using bleach. The problem with this is that it can often result in the mold merely being bleached, which does make it harder to detect but does not actually kill the spores.
If you are unskilled in mold removal, you can also exacerbate the problem by actually allowing the mold spores to spread. Mold spores are pretty hardy, and they can infiltrate all kinds of nooks and crannies. Anywhere that they find that has a good degree of moisture or dampness is the perfect habitat for it to bed down and make a home for itself, and begin to extend its influence throughout the house.
While this might seem like something that is not a big deal, it can actually be one of the biggest dangers when it comes to mold damage. The belief that you have gotten rid of the issue will cause you to continue being exposed to the toxins, with no suspicion of any health problems arising from it any longer. As a result, the mold will continue to harm you internally and you most likely will not be able to catch the culprit fast enough.
Mold is present to some degree in most homes, and in most cases, it does not have enough concentration to have a bad effect on the building or its occupants. It is when damp, bad airflow or any kind of flooding or moisture allows it to flourish that you start to have a problem.
By the time you notice the cosmetic problems of mold, such as the visible traces of mold damage, or the smell that it causes, you are often going to have an issue that is beyond the scope of the homespun mold removal techniques. It is best at this point for you to call in a professional.
Although there are plenty of dangers associated with mold damage, the good news is that there are a number of real solutions available for getting rid of it. There are dry fog techniques that use a mist to infiltrate every part of the space, and which both neutralize the mold spores and use a microbial barrier to prevent them from coming back.
This method has the advantage of reducing the amount of tear-out that may need to be done, but it does not always eliminate the need for this more traditional method of handling mold. Irrespective of whether some parts of your structure actually need to be removed, there is also the chance that you may need some building work done to correct the conditions that allowed the mold to gain a foothold in the first place. An expert in mold removal will be able to best advise you on this, once they have assessed your building and identified the source of the mold.
Some older homes may not have the best ventilation or an inefficient AC set up, so dampness may be a problem that requires a little bit more work to achieve a resolution. Likewise, if you are in an area which is prone to flooding, you may need some more extensive work to be done in order to ensure that the mold you have just gotten rid of doesn't find its way back in.
Ozone is another method favored by many, and like the other methods of handling mold, it has its pros and cons. Depending on which method you opt for as a treatment, the procedure can obviously be more or less of an inconvenience.
The ultimate goal, throughout whichever route you choose, is to handle the mold so that you do not get sick again, and to make sure that the mold damage is repaired fully so that you don't have to repeat the same situation.
There are widely recognized certifications available for those who treat mold from the National Organization of Remediators and Mold Inspectors and the Institute of Inspection Cleaning and Restoration Certification. The Environmental Protection Agency is also a great source of information on what to look for in terms of a mold infestation, and what the effects can be for both your building and yourself.
If you are unfortunate enough to suffer health problems as a result of a mold infestation or mold damage, there are thankfully more and more resources that you can find with a quick online search that you can use to educate yourself. Also, your doctor is more likely now than ever before to know about black mold and the bad effect that it can have on you and your health.
If you think that you have mold or that you may be suffering from the effect of mold spores, please seek advice immediately, so as to avoid getting sicker. It is always better to be safe than sorry given the possible problems that you could develop if you leave a mold problem unhandled. Need help figuring out the extent of your damage or how to get help with a mold damage claim? Bulldog Adjusters can help with a free damage inspection!