Now that we are in the midst of hurricane season, it is time to ensure we are adequately prepared for whatever might come our way. In an article released by the Fairfax News on June 10, 2019, it was shared that the National Oceanic and Atmospheric Administration's (NOAA) Climate Prediction Center is predicting a near-normal Atlantic hurricane season for this year. In this case, it means a 40% chance of a near-normal season, a 30% chance of an above-normal season, and a 30% chance of a below-normal season.
Hurricane scientists at Colorado State University shared predictions back on April 4, 2019, of a slightly below-average Atlantic hurricane season in 2019. In this report, researchers noted a high chance of a weak El Niño as the primary factor. According to this analysis, the tropical Atlantic sea surface temperatures are below their typical values, which makes the region a less favorable place for hurricane production.
For a hurricane to form, the ocean water must be quite warm, and the air in the atmosphere must cool at a quick rate, the higher you get. Additionally, the wind needs to be blowing at a rate high enough to disrupt the ocean currents. The Coriolis Force is needed to create the spin in the hurricane.
While 2019 is currently predicted to be a normal hurricane season, it doesn't mean that we don't need to worry, or can stop preparations for the year.
Four Do's of the Hurricane Season
While this list is not intended to be exhaustive, there are a handful of things that you should do, in the least, to ensure you are properly prepared for the hurricane season.
Stock up on bottled water. The Centers for Disease Control and Prevention (CDC) recommend a minimum of five gallons of water per family member. It is also wise to purchase iodine tablets in the event your water supply runs low, and you need to clean other sources of water to make them suitable for drinking.
Stock up on non-perishable food items. Canned goods, especially those with protein and carbohydrates (for proper nutrition and energy) are critical. A three to five-day supply per family member is recommended. Items such as peanut butter, granola bars, breakfast bars, cereal, and canned fruits, tuna, and vegetables are recommended.
While you need to ensure a strong supply of non-perishable foods, having a reasonable stock of perishable items is perfectly acceptable. In fact, prioritizing the consumption of the perishable items first will help to lengthen your availability of food. Apples are one of the longest lasting fruits, and since they are good for you and provide a variety of nutrients, grabbing a bag of apples before the storm is a smart choice. Boxed potatoes (especially those that can be made with bottled water) are a great option as they will pair well with your canned meats.
Clear the exterior of your home and property of any loose items that could blow away with the strong winds that come before or during a hurricane. Have storm-shutters installed, or have plywood, nails, and a hammer, ready so that if you receive the warning that a storm is on its way, that you can promptly cover windows. If you are in the position to have storm shutters installed, especially for higher floors that are harder to access quickly and safely, this can ensure that only a quick flip of a switch is needed to get each window properly covered and secure. Replace the batteries on your smoke detectors and carbon monoxide detectors to ensure proper operation, especially in the event of a CO leak.
Even though the 2019 hurricane season is expected to fare better than previous years, your family should still have a meeting to discuss and align on emergency evacuation plans. On your plan, make sure that you have documented where the nearest emergency shelters are, and the routes to get there. Have phone numbers and addresses of family and friends included, and keep your plan in a safe place. To be better prepared, make multiple copies of the plan, and store one in the glove compartment of each vehicle, and one on the refrigerator door in your kitchen. Consider sharing a copy of your plan with a loved one out of town, that can help to track you down I the event you have been evacuated or have not made contact.
Following the Hurricane Season Evacuation Orders of Emergency Personnel
While this could easily be the fifth "do" for hurricane season, it is important to understand the need for evacuation, and that sometimes, it is simply safer for you and your family to vacate your home prior to a storm hitting. While statistically, hurricanes don't produce a significant number of injuries or fatalities on average, the law of averages does not apply when your family's life is in peril. Since the early 1980s, over 30,000 storm shelters have been built across the United States, with the majority of them in hurricane-prone areas. Nearly 1,000 lives are saved each and every year due to shelters and the development of, and adherence to, a properly documented emergency plan. Sadly, it is estimated that almost 40% of the population that lives in areas frequented by severe weather such as hurricanes and tornadoes, do not have emergency plans in place.
If your area has issued an evacuation order, it is important to heed that guidance. Even if your house is strong and well-built, it may not be able to hold up against a hurricane. And even if your home does hold up, it doesn't mean that the buildings around you have. If you have properly prepped in advance of the hurricane and have ample food and water, that will get you by for a few days. But, you could still be subject to floodwaters in your area, making it difficult if not impossible to leave your home. Further, floodwaters often carry bacteria that can cause illness, and the murky water can hide debris that might be floating inside. If you try to wade through floodwater, not only can you get ill, but you can get seriously injured by coming into contact with large or sharp objects hidden in the water.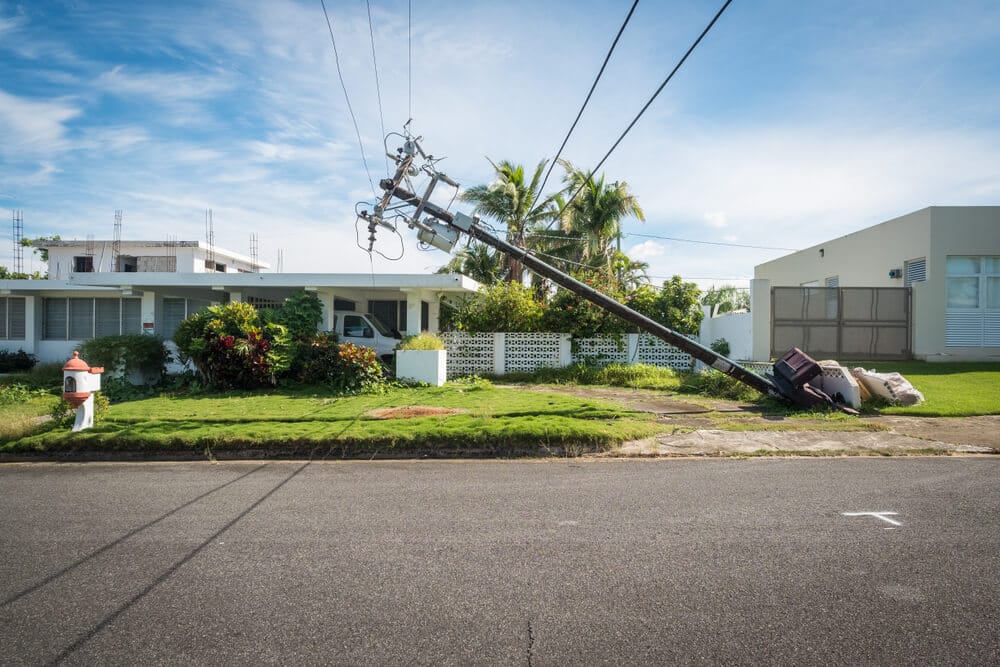 Four Don'ts of Hurricane Season
If an evacuation order has not been issued, or if you decide to try and ride out the storm at home, there are a variety of precautions that you should take. While some of these "don't's" may seem obvious, when people are under pressure or in fearful situations, rational thought is more difficult to achieve.
Never go outside during the storm. Even with a category one hurricane, winds can reach 74 miles per hour. And, category give winds are over 156 miles per hour. These wind speeds can pick up small items and hurtle them through the air, causing far more damage than our imaginations can consider. Wait for an "all-clear" from local authorities and emergency personnel before exiting your home.
While you may want to try and create an "outdoor experience indoors," refrain from this activity. If your power goes out and your appliances no longer work, you may be tempted to bring your grill indoors. Both charcoal and gas grills can release dangerous levels of carbon monoxide. When riding out a storm, it is best to stick to non-perishable foods that can be served with basic preparations.
As we suggested in the four "do's" of hurricane season, it is important to stock up on water. At least five gallons of water per family member is recommended. During a hurricane, and even in the days afterward, it is important to avoid drinking tap water or any water that has been exposed to floodwater.
Practice sobriety while riding out a storm. Things can change very quickly when a hurricane is nearby, and in the event that you need to evacuate your home after all, you will need to ensure that you are in full control of your body and actions. Your family needs you to be strong, and while you could view riding out a hurricane as a chance to sit back with your feet up on the living room table, now is not the time to accompany that behavior with your favorite bottle of Dos Equis.
Be in the Know this Hurricane Season
The better educated you are about these tropical storms, the better you will be able to prepare and protect your home and family during hurricane season. Here are some key facts that you should know, and share with your family if you live in the hurricane zone.
A hurricane is a tropical storm that forms over warm ocean water. Hurricanes are most common in the eastern Pacific Ocean, the Caribbean Sea, the Gulf of Mexico, and the southern Atlantic Ocean. When storm winds are less than 38 mph, it is considered a tropical depression, but when the winds reach between 39 and 73 mph, it is classified as a tropical storm. Finally, when winds exceed 74 mph, it is classified as a hurricane.
We're not sure exactly what causes hurricanes, which also makes it more difficult to predict their severity. As mentioned above, the key ingredients are warm ocean water, and wind.
When a hurricane moves from one area to another, it is called hurricane propagation. The hurricane propagates (moves) in the direction of the prevailing winds around the hurricane.
Category
Sustained Winds
Damage Anticipated
1
74-95 mph
64-82 kt
119-153 km/h
Very dangerous winds will produce some damage: Well-constructed frame homes could have damage to roof, shingles, vinyl siding and gutters. Large branches of trees will snap and shallowly rooted trees may be toppled. Extensive damage to power lines and poles likely will result in power outages that could last a few to several days.
2
96-110 mph
83-95 kt
154-177 km/h
Extremely dangerous winds will cause extensive damage: Well-constructed frame homes could sustain major roof and siding damage. Many shallowly rooted trees will be snapped or uprooted and block numerous roads. Near-total power loss is expected with outages that could last from several days to weeks.
3
111-129 mph
96-112 kt
178-208 km/h
Devastating damage will occur: Well-built framed homes may incur major damage or removal of roof decking and gable ends. Many trees will be snapped or uprooted, blocking numerous roads. Electricity and water will be unavailable for several days to weeks after the storm passes.
4
130-156 mph
113-136 kt
209-251 km/h
Catastrophic damage will occur: Well-built framed homes can sustain severe damage with loss of most of the roof structure and/or some exterior walls. Most trees will be snapped or uprooted, and power poles downed. Fallen trees and power poles will isolate residential areas. Power outages will last weeks to possibly months. Most of the area will be uninhabitable for weeks or months.
5
157 mph or higher
137 kt or higher
252 km/h or higher
Catastrophic damage will occur: A high percentage of framed homes will be destroyed, with total roof failure and wall collapse. Fallen trees and power poles will isolate residential areas. Power outages will last for weeks to possibly months. Most of the area will be uninhabitable for weeks or months.
Hurricanes cause damage in four primary ways; wind, rainfall related flooding, tornadoes, and storm surges. Most structural damage is caused by wind and flooding, produced by the rain. A storm surge happens when there is a fast rise in the water level, which is pushed towards the shore (from the ocean), by the strength of the winds within the hurricane. When this surge combines with the tides, and increases water levels by 30 feet or more, this can cause extensive damage to property and is most likely to cause injuries and fatalities.
You may think that drowning is the main cause of death from hurricanes. In reality, however, carbon monoxide poisoning can be far more deadly. Often homeowners decide to grill inside their homes or use a gas stove to heat up food, not realizing that grills will bring carbon monoxide into your home, and not realizing that the gas line to your stove could have become damaged in the storm. Carbon monoxide is both odorless and invisible, so often, people do not realize that they are being poisoned. If you experience nausea, headaches, vomiting, or dizziness, it is possible that you are experiencing carbon monoxide poisoning.
If you have been exposed to carbon monoxide, it is important to get as far away from the source as possible. In the event of a hurricane, your ability to get to fresh air is severely hindered by the storm, which can mean very bad news. The best way to prevent carbon monoxide poisoning is to avoid the use of grills and gas stoves during the storm, and until after the storm and all equipment has been checked for proper performance. Ensuring you have a functioning carbon monoxide together will provide an additional piece of mind.