Not many people realize that earthquakes occur several hundred times a day across the world. In the vast majority of these occurrences, the magnitude is two or smaller, meaning that the earthquake cannot be felt by the average person. Over the past century, we are experiencing more and more earthquakes that we can feel, due largely to the increase in seismic stations.
Though Chile, Alaska, Sumatra, Japan, and San Francisco tend to experience the majority of earthquakes that can be felt, it is important to know that these disasters can occur at any time and can create significant property damage as well as the loss of life.
What causes earthquakes?
Earthquakes are caused by the sudden displacement of what were adjacent points on the opposing sides of a fault. As tectonic plates are always in a state of slow-motion, occasionally they get stuck that their edges as a result of the friction from the movement. That stress often overcomes the friction, which then results in the release of energy that travels quickly to the earth's crust, resulting in the shaking and tremors that we experience in the form of an earthquake.
In the United States, we generally think of San Francisco when we think of earthquakes. And, this is no surprise, as many people know of the massive earthquake that struck the city by the bay back in 1989. That earthquake centered near Loma Prieta Park, which is roughly 60 miles south of the city of San Francisco. The magnitude 6.9 earthquake caused more than $5 billion in damages and cost 67 people their lives.
In California in particular, there are two plates – the Pacific Plate and the North American Plate. The boundary between these two plates is the San Andreas Fault, which is over 650 miles in length and has depths of at least 10 miles. California also contains several other faults that are smaller in size, such as the Hayward (Northern California) and the San Jacinto (Southern California) which stem from and then connect with the San Andreas Fault Zone.
Each year, the Pacific Plate grinds its way north-west at a rate of approximately two inches per year past the North American Plate. Many sections of the San Andreas Fault line have adapted to this small rate of movement, resulting in small socks and somewhat moderate tremors. However, where the creep is not constant, it can cause a build-up that over time will result in a massive earthquake when the stress can no longer hold.
What you need to know about earthquakes
It is easy to forget that earthquakes can happen at any time. With the ability to predict so many other natural disasters, it seems unbelievable that we are not at a point where we can predict earthquakes. Unfortunately, earthquake forming activity takes place far below the earth's surface, and it is highly unlikely that we will get to the point where we can predict this natural disaster from occurring, especially far enough in advance to help people get to safety.
Consider these interesting facts about earthquakes.
Seismic waves travel at 20 times the speed of sound, which is why even if we could predict an earthquake, the prediction would come at a point where it would be far too late to get notifications out to the general public.
Scientists use the Moment Magnitude Scale (MMS, formerly referred to as the Richter Scale) to determine the strength of an earthquake. In most situations, the average human will not feel an earthquake with an MMS rating of three or lower. An earthquake rated with an MMS of four could shake your home, but in most cases, will not be felt. An earthquake of a seven or higher is highly likely to create significant damage such as building collapse, the formation of cracks in bridges and on roadways, and even the falling of bridges such as what happened with the San Francisco earthquake of 1989.
The Richter rating system was created in 1934 by Charles Richter and was specific to earthquakes that took place in California. The MMS system works over a wider range of earthquakes and is now used globally.
Earthquakes start at the hypocenter below the earth's surface. The epicenter is the point above the hypocenter which is located at the earth's surface.
The largest earthquake on record occurred in Chile in 1960 and measured a 9.6 on the Richter Scale.
The largest earthquake in the United States took place in Alaska in 1964 and rated a 9.2 magnitude
Earthquakes can cause ocean tsunamis.
Certain mountain ranges such as the Himalayas and the Andes were formed due to the movement of tectonic plates.
Earthquake activity is not limited to certain climatic or weather-related conditions.
Alaska is the most seismically active state and has more large earthquakes than California.
In the United States, Alaska has the most seismic activity and has more earthquake occurrences than California.
Hazards caused by earthquakes
Earthquakes, simply in the way they are formed, are highly destructive in nature. And, the amount of damage that occurs is typically a result of the design of buildings in the vicinity of the earthquake, the location's distance from the epicenter, and the type of material that the building sits on (such as dirt or rock).
Various building designs have the ability to survive an earthquake quite differently and the further away that you are from an earthquake, the less damage that will be experienced (if any damage at all). Whether a building is constructed on sand or solid rock plays a significant role in how much damage the building will experience. Solid rock will generally shake less than sand. Therefore, a building constructed on top of a rock surface is likely to experience less damage than one built on a sandy surface.
Earthquakes provide very little direct risk to people, and an earthquake can't shake a person to death. However, the property destruction that occurs where people are located can be quite serious, and even deadly. The 1960 earthquake in Chile, caused aftereffects that led to the death of 5,000 people, and left nearly 2,000,000 people without homes.
Typical hazards from earthquakes include the following:
Ground shaking – Buildings can be damaged or can sink into the ground as a result of the shaking that occurs from an earthquake.
Ground displacement – When buildings are constructed across the lines of a fault, they take on the risk that the building could be ripped apart or otherwise seriously damaged due to an earthquake.
Flooding – Earthquakes are known to cause damage to dams and levees along rivers. Tsunamis and seiche waves can also be highly destructive and are a greater risk for those that live in coastal areas. can also cause a great deal of damage. Tsunamis, also commonly referred to as tidal waves, are caused by earthquakes under the ocean floor. This can lead to waves of ten feet high or more and can be seriously destructive to the coastline. Earthquakes can also lead to serious waves in lakes, but in these cases, the damage won't be nearly as significant.
Fire – Fires can start from tripped power lines, broken gas lines, and stoves that might tip over as the result of the ground shaking. Damage from this can become even more serious when water lines that feed fire hydrants break. As an example, the Great San Francisco earthquake of 1906 left the city on fire for almost three days, as there was no way to get water into the city to put out the fire.
How to protect your home in case of an earthquake
If you live near a fault line, there are steps that you can take to try to lessen the damaging effects of an earthquake. Though it is impossible to predict when the next earthquake will take place, or its magnitude and the resulting damage, these steps are highly recommended.
Scan your home for furniture items that can be dangerous in an earthquake. Homeowners that live in areas where earthquakes are more frequent are wise to avoid hanging heavy mirrors and wall art directly above a bed or primary seating area.
Keep items stored safely when not in use. Glassware, china, and other delicate items are best when stored on low shelves in cabinets. It is also recommended to use latches or bolts on drawers to help keep them closed.
Ensure that furniture and appliances are properly secured.
Top-heavy furniture such as bookcases, water heaters, and television stands are best anchored to wall studs. If you are unable to bolt the furniture yourself, consider hiring a professional handyman that can do it for you.
Keep a stocked emergency kit nearby. Even for homes not in an earthquake zone, it is always wise to have a fully stocked kit that can be used in the event of emergencies. Prepare food and water that can last for three days, along with a flashlight, spare batteries, a whistle, an adjustable wrench, and basic first aid supplies. Be sure to tailor your kit to your family's specific needs as well. And, if you have a pet, ensure that you have supplies to keep them healthy for up to three days too.
Know where the main turn-offs are for your home utilities. After an earthquake has occurred and if your home has sustained damage, you will want to turn off your utilities until you can have them properly assessed by a professional. Use the wrench from your emergency kit to turn off the utilities to help prevent gas leaks or electrical sparks from igniting items in your home.
What to do in the event of an earthquake
In the event that you are in the area when an earthquake occurs, the best thing to remember is Drop, Cover, and Hold On. This means that you should drop to the ground so that you are on your hands and knees. Then, cover your head and neck with your arms. If possible, crawl under a nearby sturdy table or desk for additional protection. But, only crawl to this space if it is safe for you to do so. Finally, if you are under a table or other structure, make sure you hold on with one hand while using the other hand to protect your head and neck. This will allow you to move with the object if it moves. And, if you are not underneath anything, use both hands to cover your head and neck.
And, keep in mind the following:
If you are in a motorized vehicle, pull over and stop and set your parking brake.
If you are in a bed, turn your body face down and then cover your head and your neck with a soft blanket or a pillow.
If you are outside, stay outside and keep away from buildings.
Do not get in a doorway despite suggestions from others for you to do so.
Do not run outside if you are inside, as you may get trapped or injured from moving debris.
Though an earthquake cannot be predicted, knowing what to do when one happens can be the difference between your ability to prevent injury to yourself, or worse.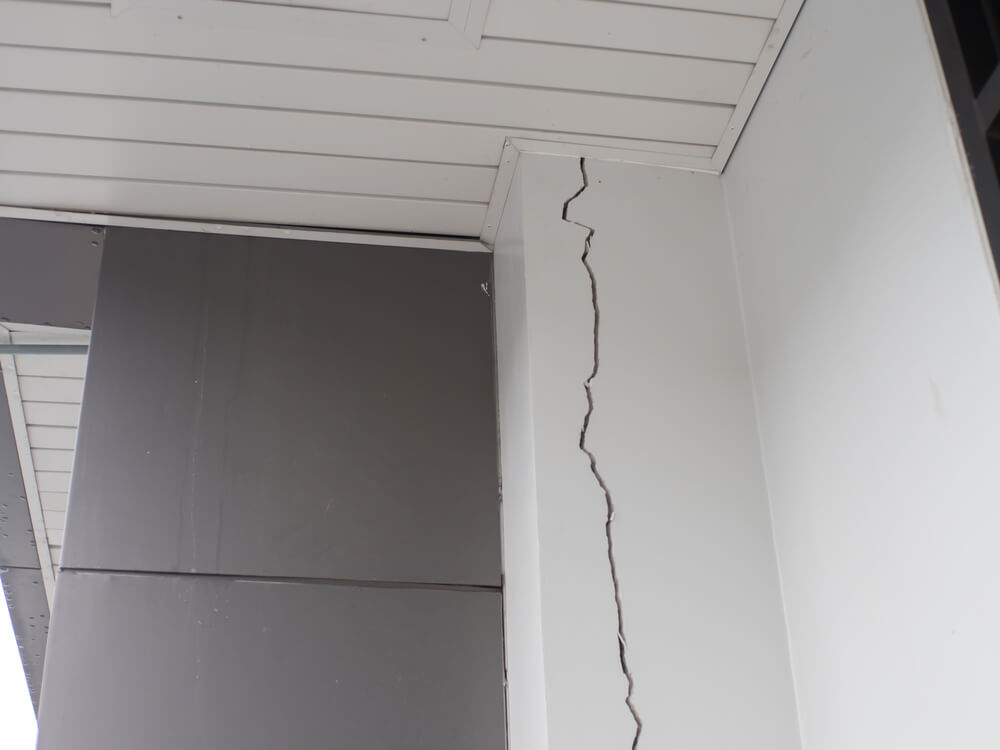 Sure, the last earthquake to hit the East Coast was a 4.1 quake off the coast of Delaware back in 2017, but there's no reason to assume that earthquakes are an absolute impossibility. Because of looser building codes and a lack of preparation for these quakes, homeowners may not be prepared for a quake. And considering that we're well overdue for a significant quake –
Now's the time to figure out if your home or commercial property is covered and what you'll need to do in case a quake happens.
And if you're in Bulldog Adjusters' service are and you have damage to your home as a result of an earthquake or another disaster, reach out for a free inspection today. We're the fastest growing public adjusting firm in the United States and we'll work hard to get you the largest possible settlement from your insurance company!