Sadly, every year, one of our every 326 homes experiences a fire, and seven people die in house fires each day. Those statistics are alarming, to say the least. And every parent has experienced a nightmare or two about what their family would do in the event of a fire, and how they could increase their risks of survival. Aside from ensuring proper care of your home and electrical devices, and never leaving your kitchen unattended when cooking, the best way to increase your chances of survival from a house fire is to develop a fire prevention plan.
While most families call these documents and sets of procedures a fire prevention plan, they are really more of a strategic escape, and survival plan. And spending time together as a family understanding how to stay safe in the event of a fire can be one of the most critical family gatherings that you will ever have; because it may save your life someday.
Fire can spread through your home far faster than you can imagine, which means you may have as little as one or two minutes to escape safely once your smoke alarm starts to sound. A closed door will help to slow the spread of smoke, fire, and the associated heat. Because of this, you should first make sure your home is properly equipped to aid your family when escape is necessary.
Aside from smoke and carbon monoxide detectors, you should ensure that you have a fire extinguisher on each level of the home. Next, you should also have a fire escape ladder in each room above the ground floor. Escape ladders can be either portable units or can be permanently installed below a window. While the National Fire Protection Association (NFPA) suggests one ladder in each room, at the minimum you should have at least one portable ladder per floor, and you need to ensure that your family knows where to find the ladder, and how to use it. Remember, if a fire breaks out, you will have a very limited amount of time to escape.
Preparing for your family fire prevention plan meeting
Before you sit down to conduct your family's first fire prevention plan meeting, it is important that you gather a few materials.
A floor plan that shows each floor of the house – if possible, make this large enough to spread out on a kitchen table. If you use a version that is too small, it may become crowded later when you begin to write out the escape plans from each room.
One fire extinguisher – if you hold your meeting in the kitchen, you can leave the fire extinguisher under the kitchen sink, and then you can reference it during the meeting when providing proper instruction on how to use it.
Permanent markers for each person in the meeting – it is really not required that everyone have their own marker, but children and others might find it easier to stay focused when they have something to twirl in their hands. This strategy will also help to keep children engaged when they understand that they will get to write something and will play an important role in the plan.
Home safety checklist – Create your own or download an example home safety checklist from the internet. A great option is to use the safety checklist that was developed by the Boy Scouts of America (BSA) for their Fire Safety Merit Badge. While many of the items on this checklist are tied to basic safety functions, several of the items pertain to fires. If you want to keep your checklist specific to fire-related items, simply mark out the items you are less concerned about (but make a mental note of things you might want to check in your home to ensure it is safe).
Notepad – You will want to jot down a few notes during the fire safety walk that you will conduct at your family meeting.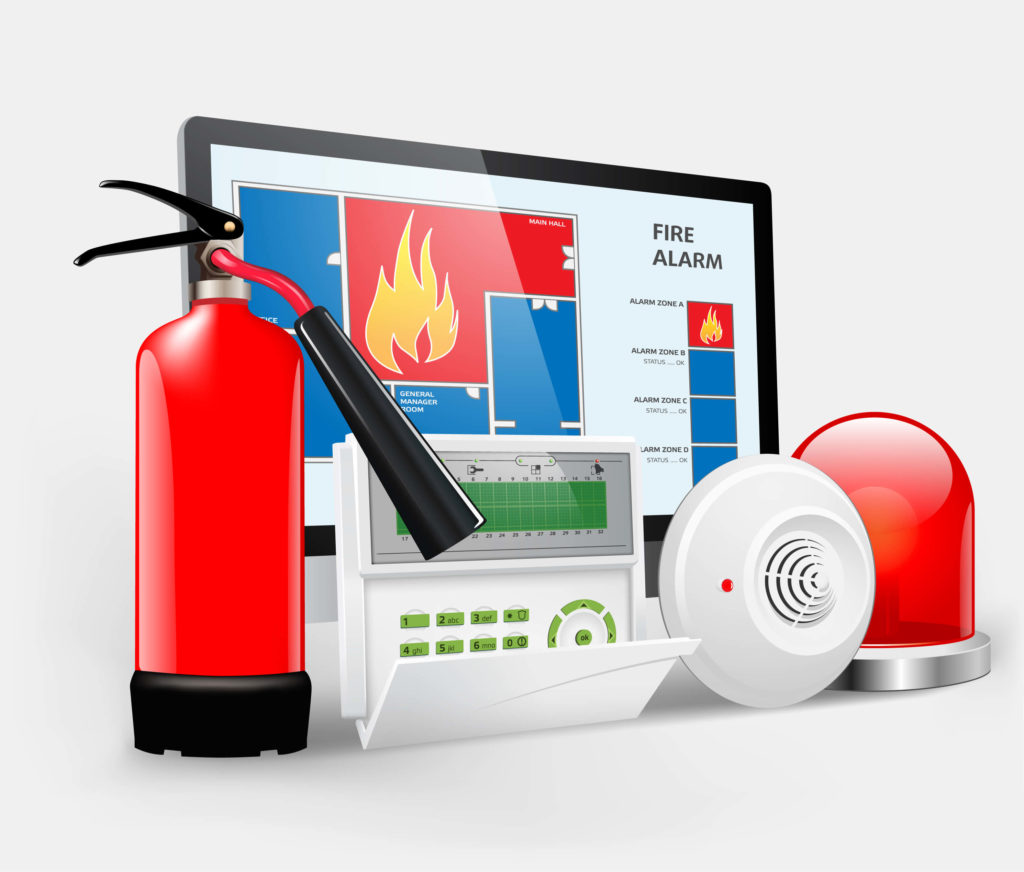 Conducting your fire prevention plan meeting
Assign a date and time that you are going to get your family together. Be sure not to put off this meeting too long, as a fire can break out at any time. Make sure that all family members know that they will be expected to fully dedicate themselves to the meeting and should be free from distractions such as smartphones and other devices. In the extreme and unfortunate event that not all household members can be in attendance, be sure that you set aside time at the next possible convenience to educate that person on what they missed.
Sit everyone down around the kitchen table, and spread out the floor plan on the table. Provide all family members (those who can write sufficiently well) with a black permanent fine or medium point marker (such as a Sharpie). Have one adult virtually walk through the floor plan, pointing out where they are located now (the kitchen), and then all rooms of the house. Ask each child to identify where their bedroom is located, and help them to write their names inside the room so that it is marked on the floor plan. Be sure to point out all windows and doorways.
Next, do a walk-through of your home. Bring the floor-plan with you if you can, but if you are using a large-scale version, you may find it easiest to use the notepad that you gathered in preparation for the meeting. During your walk, make a note of the following on the floor-plan or on your notepad.
Locations of all smoke alarms, carbon monoxide detectors, and fire extinguishers
Location of all fire escape ladders
Location of two exits for every single room – in most cases, this will be the doorway as the first choice, and a window as the second choice. Take the time to show all family members how to open the windows, and ensure that windows have not warped and are not pained shut. If a bedroom is located on the ground floor, indicate that the window, instead of the door, will be the ideal escape route, as heading back into the home will be more dangerous. Ensure that there is nothing underneath the window outside that could result in serious injury.
For each bedroom, identify the desired escape route, which should be the shortest distance from the bedroom door to the closest exterior door.
Make a stop in the basement (if you have one) and show how to escape through the basement window. Ensure that a vertical ladder is available at all times in the basement so that it can easily be relocated near the window to provide for quick access if the window is elevated.
In at least one room, practice escaping out the window using one of the fire escape ladders. Your children will find this to be a fun activity, so make sure your children understand that this activity is for fire escape purposes only.
Designate a safe family meeting place outside of your home; this could be a neighbor's home or at a point across the street.
During this walk-through, also work through the identified components of your safety checklist.
Return to the kitchen, and discuss your findings as a family. Help your child to mark their escape route from their bedroom to the nearest exterior door, by drawing arrows from their bedroom door to the exterior door on the floor-plan (this is why those markers are needed). Encourage your children to ask questions as needed. Transfer any key information from your notepad to the floor plan if you have not done so already (i.e., locations of smoke detectors and carbon monoxide detectors, fire escape ladders, and fire extinguishers).
Determine where the fire prevention plan will be located. If you are using a smaller version, it might be wise to keep the document on your refrigerator. If you are using a larger version, fold it up and keep it protected in a plastic sleeve or Ziploc baggie, and then label it so that family members know what is inside. Identify a place for safekeeping and ensure all family members know its location. Repeat a practice of your plan annually, and twice per year if possible.
How to use a fire extinguisher
As mentioned above, you should have a minimum of one fire extinguisher on every level of your home. You should strategically place the extinguishers in the rooms with the highest probability of a fire, such as the kitchen, bathrooms, master bedroom, and garage. There are a variety of classifications of extinguishers, those classified as "ABC" will be suitable for most homeowners' needs.
Do not let a housefire be the first time that you try to use a fire extinguisher. The devices are not difficult to use, but when you are in fight or flight mode from a fire and have only a moment or two to react, you may not be best positioned to practice trial and error. Unfortunately, according to FEMA, the majority of Americans don't know how to use a fire extinguisher. This is a very dangerous knowledge gap, as fires double in size every minute.
When using a fire extinguisher, remember the following abbreviation: PASS.
Pull the pin and grip the extinguisher so that the nozzle is pointing opposite from you. Release the locking mechanism.
Aim low, ahead of you but towards the ground at the fire's base.
Squeeze the lever and apply consistent pressure.
Sweep the nozzle back and forth to cast a wide net towards the fire. Most extinguishers will give you 10-20 seconds.
Be sure as well to exercise proper maintenance of your fire extinguisher. The following items should also be discussed during your family fire prevention plan. Start by ensuring that nothing is blocking the fire extinguishers when they are in each room. Check the pressure levels during routine inspections; most extinguishers are equipped with gauges that show when the pressure level is too high or too low. Inspect the extinguisher to ensure it is free of dents and other damage, and remove any dust, oil, or grease that has collected around the chamber.
Unique circumstances to prepare for in the event of a house fire
There are a few unique situations where you may need to add additional items to your plan. For example, if you have folks that live in your home that are disabled in any way, you will need to develop an accommodation that provisions for their safety. If you have an infant or toddler, you will need to identify various scenarios and which adult will be responsible for getting the child out of the home safely. You will need to do the same thing if you have pets or an elderly or disabled family member.
Make note that as you vacate the home, that you should close doors that you pass as it will slow the spread of the fire, giving you and your family more time to escape.
You may also want to consider investing in a fire-proof safe and store critical family documents in that safe. These documents may include birth and marriage certificates, passports, copies of driver's licenses or state-issued IDs, social security cards (or copies), housing records such as the deed to your home or proof of mortgage, insurance policies, living wills, critical medical records, tax returns for the last two years, banking information, etc.
Adults in the household should schedule a separate fire prevention meeting during the year to document belongings through a photo journal. This means taking pictures or video of everything in your home, and then keeping copies of those photos or a portable drive containing the video, in the safe. Taking the time to properly document your belongings will help you with your insurance claim in the event of a house fire. Further, if you elect to work with a public adjuster (recommended if you will need to file a claim from the house fire), these records can help them to ensure you are properly compensated for your loss.
Most of the suggestions in this article are simply common sense. But in the event of a fire or emergency, and even when we are stressed out from everyday life, we can lose track of basic precautions. When it comes to fire safety, there is no such thing as being too safe. Taking proper care to prepare for your family and possessions by having a fire prevention plan will be worth it.