This hurricane season is underway and so far we've been pretty lucky in Florida. We've just entered April and Florida hasn't had to deal with much just yet, however, this hurricane season is sure to be memorable! But how bad is this hurricane season going to get for Florida? What can we expect this hurricane season?
There are many factors that will determine how bad this hurricane season will be for Florida. Of course, it depends on how many hurricanes will threaten the Sunshine State, but it also depends on how well we are prepared, legislative actions and flood risk.
Expert Predictions for this Hurricane Season
Forecasters have revised their original predictions for an above average hurricane season. Modified predictions now call for average or below average activity this hurricane season.
The specifics from the Colorado State University forecasters now include:
11 named tropical storms
Four of those to be hurricanes
One major hurricane
Just for comparison, we closed out the 2018 hurricane season with:
17 named storms
10 hurricanes
6 major hurricanes
But before you breathe a sigh of relief and start using up your emergency kit supplies, remember that predictions aren't the only factor of how bad this hurricane season will be for Florida.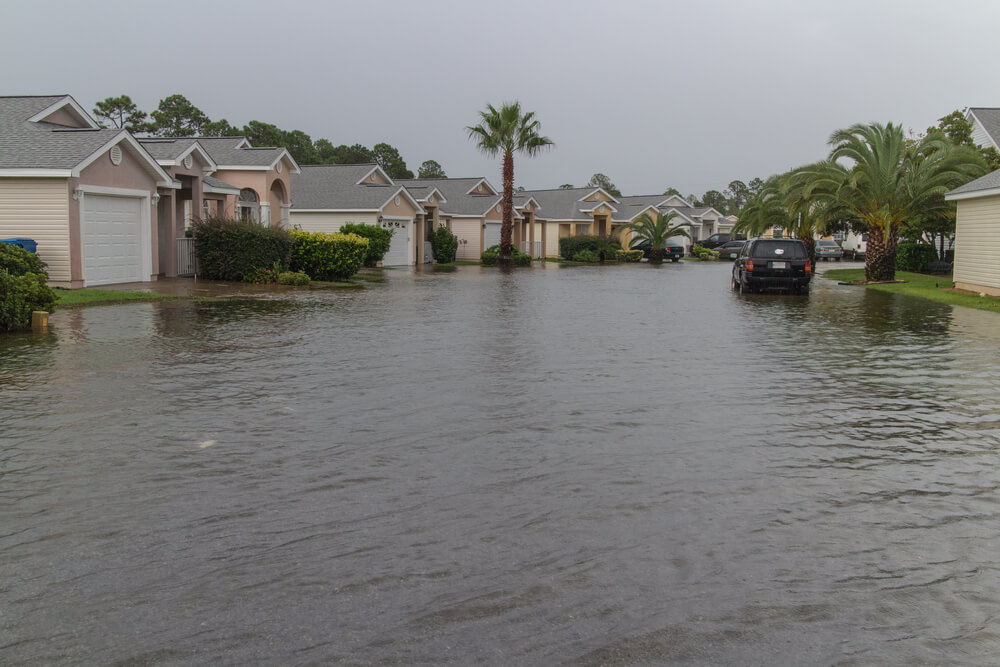 Flooding Concerns this Hurricane Season
Even more than wind, flooding is on the mind of many Florida residents this hurricane season. While flooding is always a concern for our low lying peninsula, recent news about Florida's flood risk leaves many homeowners worried about flood this hurricane season.
A recent study determined that using the Federal Emergency Management Agency (FEMA) flood maps to determine high-risk flood zones in Florida, is not an accurate assessment of the state's actual flood risk.
The study was published by the scientific journal Environmental Research Letters and states the FEMA maps have miscalculated flood risk.
Florida is particularly at risk for a flood this hurricane season with $714 billion in property located in a 100-year floodplain.
Maps Underestimate Flood Risk this Hurricane Season
FEMA is currently remapping part of the Florida flood maps to better reflect the state's flood zones. The maps are to be released later this year or in 2019. But until then, residents must rely on existing maps.
Keep in mind that many homeowner policies don't provide flood insurance. Flood insurance may have to be purchased as a separate policy through the National Flood Insurance Program or as an endorsement added to your existing homeowner policy.
If you are not sure if you have flood insurance or what your flood risk is, talk to your insurance professional before we get any further into this hurricane season.
Existing Damage can Affect Homeowners this Hurricane Season
The clear majority of hurricane claims form 2018 have been closed according to the Florida Office of Insurance Regulation. But some have been closed without payment. Out of 823,733 residential homeowner insurance claims, 262,809 were closed without payment.
There are several reasons a claim could be closed without payment, such as:
Damage under deductible
No coverage for the damaged property
No coverage for the cause of loss of the damage
Having a clam closed without payment could mean many Florida homeowners may still have damage to their property. Existing damage can make this hurricane season more challenging for homeowners.
State Legislation Impacts this Hurricane Season
Following last year's devastating hurricane season, the state legislature acted with some massive spending measures focused on recovery.
$40 million to repair damages to the state's agricultural industry.
$90 million in federal disaster recovery grants for communities.
$126 million in assistance for students from Puerto Rico and the Virgin Islands who were displaced by the story.
$11.2 million in beach repairs.
A good recovery from last year's hurricane season means Florida is better prepared for this hurricane season.
Rising Sea Levels May Affect this Hurricane Season
Rising sea levels could mean more flooding for areas near Florida's coast and 12,000 miles of rivers. Low lying areas like the Florida Keys and Cedar Key have already experienced record high water from hurricane-related storm surge and this hurricane season could bring the same.
Last year's hurricane season brought record flooding of the St. John's river in Jacksonville.
The impacts of rising sea level will be felt first by areas near rivers and tidal bodies of water. Homeowners near this type of water may begin to see "rapid" increases in the number and severity of tidal flooding. Florida storms will get worse for these areas. For these homeowners, you can expect to see higher water levels and more flooding.
Inland Residents are at Flood Risk too this Hurricane Season
It's not only coastal residents that are at risk for flooding this hurricane season. Inland residents are also surrounded by flood risks. Lakes and rivers are also subject to flooding this hurricane season.
Last year. The St John's River near Jacksonville experienced the worst flooding the river has seen in more than a century.
What You Can Do to Protect Yourself this Hurricane Season
Just how bad this hurricane season will be for Florida is really anyone's guess. But there are things you can do to make sure if Florida does experience a major hurricane this year you are as prepared as possible.
Here are just a few tips to make sure you are ready for this hurricane season
Be prepared: Have an emergency plan and an emergency kit.
Make sure you are insured: Schedule an insurance review with your insurance professional. Make sure you have proper hurricane and flood insurance in place. Know your deductibles and your limits.
Invest in your property: Life in Florida means hurricanes. Why not take a proactive approach and invest in hurricane resistant windows and doors for your home.
The predictions for this hurricane season are shaping up to be less active than last year. Still, no one knows exactly what will happen this hurricane season, so it is best to be ready.