Hurricane damage is a problem that no homeowner ever wants to deal with. Unfortunately, many areas throughout the country are at a higher risk of being affected by tropical storms. That being said, there is no way to completely protect your home and property from being destroyed if you reside in these locations.
Out of all 50 states and hundreds of cities within them, there are 17 in particular that are more prone to hurricane damage. These are cities where the effects would be the most destructive.
Miami, Florida
When it comes to hurricane damage, there is no doubt that the state of Florida is one of the most high-risk areas in the country. This is especially true for the city of Miami, which is located directly on the coastline. Homes in Miami are prone to flooding on the property and the interior of the home.
Key West, Florida
Key West is an island off the coast of Florida that is surrounded by the ocean. Needless to say, this area is vulnerable to everything you can imagine during a hurricane, from flooding to storm surges and more.
Naples, Florida
Homeowners located in Naples, Florida should be wary of flooding and storm surge following the strike of a hurricane. In the past, the entire city has gone without electricity during these times.
Bradenton, Florida
The city of Bradenton in Florida is located right next to the Gulf Coast, meaning that it is also very prone to flooding once the water makes contact with land. Considering its proximity to the water, homeowners should brace themselves for high water levels following the storm.
Tampa, Florida
Similar to Bradenton, Tampa is situated near Florida's Gulf Coast. Although it is not in direct contact with the body of water, residents of this city can expect some flooding to enter into the area.
Jacksonville, Florida
Jacksonville is another city in the state of Florida that is prone to high water levels and flooding. Homeowners in this area should be prepared for these types of damages during the storm season.
Fort Meyers, Florida
Fort Meyers, Florida, which is located right against a river, is also at high risk for flooding damage. Being that the city is almost surrounded by water, it is almost a guarantee that the ocean water will spread throughout the streets and flood nearby properties once the storm hits.
New Orleans, Louisiana
Since the lower area of the state of Louisiana is surrounded by water, residents of New Orleans and nearby locations should expect some level of flooding during a hurricane. Even though the state has implemented protections against these types of storms, strong waters and winds have gotten through in the past, flooding local properties.
Virginia Beach, Virginia
Homeowners in Virginia Beach, Virginia have cause to be concerned about flooding in the area. This is due to the fact that the foundation of the city is actually descending into the ocean slightly. Therefore, when the waves begin to crash, the entire area will become a puddle of water.
Myrtle Beach, South Carolina
Myrtle Beach is a desirable vacation destination, due to its location on several miles of coastline. However, this placement is dangerous in the eye of a storm, causing concern for flooding and storm surge.
Charleston, South Carolina
Another coastal city in South Carolina, Charleston is very vulnerable to anything from storm surge to high levels of flooding in the event of a hurricane.
Cape Hatteras, North Carolina
Similar to cities in neighboring South Carolina, Cape Hatteras is at high risk for flooding during a hurricane, due to its proximity to the ocean.
Boston, Massachusetts
The city of Boston is not commonly associated with hurricane risk, but it has happened before and can happen again. Although the last storm happened in the early 1990s, this area is prone to storm surges if the water is powerful enough.
Philadelphia, Pennsylvania
Philadelphia is another city that many do not connect with hurricane damage. Nevertheless, this area is at high risk for storm surges from nearby water bodies.
Houston, Texas
Houston is a metropolitan area located toward the bottom of Texas near the ocean. It is becoming more developed, with a high density of buildings throughout the premises. This location, in particular, is at an increased risk for damage caused by storm surge. Storm surge is something that occurs when water levels are rising and flowing at fast speeds in a certain direction.
Beaumont, Texas
Beaumont, Texas is found not far from Houston, and very close to the neighboring state of Louisiana. This area is at high risk for flooding and actually turned into an island following Hurricane Harvey in 2017. For upcoming storms, residents of this city should be aware of the possibility of a similar situation occurring once again.
New York, New York
New York is one of the most highly sought after vacation destinations in the entire world. However, what most people do not know is that the city is reachable by the winds and waters of a hurricane. Homeowners in New York should be prepared for storm surge during a disaster.
How To Prepare For An Upcoming Hurricane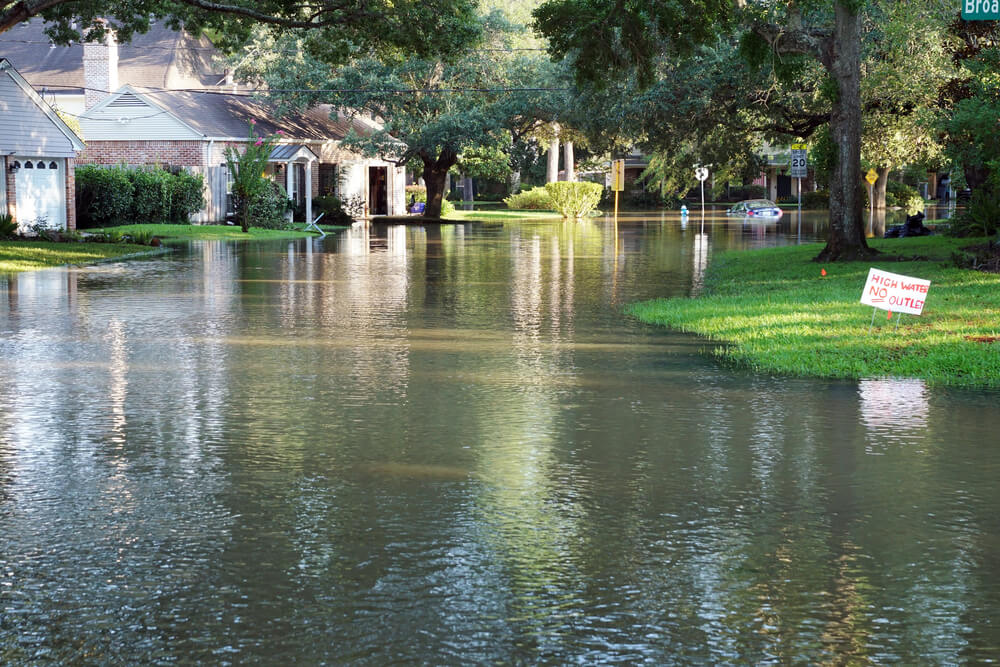 When living in a location that is prone to tropical storms, there is a designated season indicating when to expect an upcoming hurricane. Even though it is slightly easier to stay prepared with a warning, this does not lessen the impact of the storm for homeowners in the area.
The unfortunate fact about hurricanes is that one can never be completely prepared for the effects, nor can they be one hundred percent prevented. Nevertheless, there are a few steps that can be taken in order to protect your property to the fullest possible extent.
Seal All Openings Throughout Your Property
The first thing that you should be doing in preparation for a hurricane is sealing the openings around your property. This will prevent the water, wind, and other elements from gaining access to the interior of your home.
Openings can be found almost anywhere throughout your house, but the best places to start looking for them are the most obvious. Begin by sealing any cracks around the edges of your windows and entry doorways, including the front, back, and any side entrances.
There are two ways to seal openings around your home's exterior. One of the most common methods involves using caulk to bridge the gaps between window sills or doorways and the wall. This is as simple as inserting the material into the empty spaces to close them.
Another option would be to install a metal strip in the same openings. This would serve the same purpose as the caulk, and is recommended for adjoining the sides of doorways and windows with the rest of the house.
It is important to realize that these voids are not only found in the most obvious spaces but can appear anywhere around your property. Cracks and openings come as a result of normal wear and tear, extreme weather, and various other causes.
Lock Down The Exterior
Next, you will need to lock down the exterior of your home in order to prevent any damage to components such as windows and doors. When the strong winds of a hurricane set in on your property, the immense amount of pressure can force entry doors open, allowing the elements to enter your home.
Furthermore, the pressure from the wind can even be intense enough to shatter an entire window. To protect against this possibility, window shutters for the exterior of your home should be purchased and installed before the storm begins. Although they are not the most decorative pieces, they will shield the glass from direct exposure to the wind, preventing them from breaking on contact.
Along with window shutters, hurricane straps will be your best friend as a homeowner looking into the face of an upcoming tropical storm. Straps can be used to hold down entry doors, preventing them from coming off the hinges when the wind starts blowing.
The same straps can also serve the purpose of protecting your roof. It is very common during hurricanes for roof tiles and materials to be blown off the top of homes in the affected areas. When you strap down your roof tiles, you will ensure that everything stays securely in place for the upcoming storm.
One area of the property that many homeowners do not think about is the garage door. This is especially true when you have a double garage door, but this location will need protection regardless. To avoid your entire garage door coming off the hinges and flying with the wind, it is recommended to strap it down as well, before it is too late.
Get Rid Of Potential Hazards
Another critical step involved in preparing your home for an upcoming hurricane is getting rid of potential hazards on the outside of your property. These hazards typically consist of outdoor furniture such as chairs and tables, along with any unsecured items like bicycles and children's toys that are not attached to a solid foundation.
When the strong winds begin to blow, anything that is not being permanently held down to the ground will be pushed and pulled in the same direction of the gusts. If the objects are light enough, or the wind is strong enough, they can be thrown at nearby structures, which almost always happen to be homes.
If you leave loose objects around the perimeter of your property or anywhere on the exterior, you run the risk of the same things being hurled at your windows, doors, and exterior walls, causing damage that will certainly require repairs.
Maintain Your Yard and Landscaping
Another thing to keep in mind before a hurricane hits is your yard and landscaping. While it might seem normal and harmless, it is very important to consider these areas when making necessary preparations.
Just like loose objects in your yard can be thrown at your home, the same thing can happen to the components within your landscaping. These components include everything from trees and plants to rocks and gravel.
Trees happen to be some of the biggest culprits when it comes to exterior home damage. This happens when the wind pulls branches and loose trunks out of their foundations and throw them at nearby structures. In some cases, entire trees can be uprooted and fall on the house if they are close enough.
Surprisingly, even the smallest rocks and gravel can become the source of a lot of home damage during hurricanes. Although they appear to be small and insignificant, they will often be the first objects to go with the wind once it starts, being that they are almost weightless.
In order to avoid unnecessary damages to the outside of your home, you will need to remove any loose rocks and gravel, replacing them with alternatives that will not become a hazard. Similarly, all bushes and trees should be trimmed down and secured to the ground if necessary.
Check Your Insurance Policy
As previously mentioned, there is not any sure way to protect your home from a hurricane completely. While you can take all of the steps explained above to minimize the damage, you must be aware that you cannot avoid it.
When all else fails and your home is affected negatively by a tropical storm, you will need to have a good insurance policy to back you up. In the event of home damage, you can file a claim and retrieve a settlement that will pay for all of the damages.
The most important thing to do as hurricane season approaches is to review your insurance policy and everything that is covered. If you feel that you need more coverage, you can adjust it as needed until you feel comfortable.
Consult With a Public Adjuster
Even though insurance companies are a necessity to have behind you as a homeowner, they will not always share your best interest. It is vital to understand that insurers are running a business, so they will not exactly be enthusiastic about handing over a settlement check.
To avoid receiving a low balled claim, or getting your request denied altogether over a hurricane damage claim, it is wise to consult with a public adjuster to help you through the process. Your public adjuster will speak for you, bridging the gap between you and your insurance company. It is best to build the relationship early and have someone on hand that you can call in your time of need, as opposed to making arrangements after the disaster has set in.
The 2019 hurricane season is almost over and so, the chances of being hit by hurricane damage are rather low. But you don't need hurricane damage or a storm to get help with a home damage claim or to start preparing for next year's hurricane season!
If you have damage to your home from any natural disaster or accident, reach out to Bulldog Adjusters for help with your damage claim. We've got over a decade of experience getting homeowners the best possible settlements from their insurance companies.