Every September, FEMA launches a campaign geared towards the promotion of family and community disaster and emergency planning. The program itself has turned into what is now referred to as National Preparedness Month, and the theme for 2019 is "Prepared, Not Scared." Homeowners, community members, and local businesses can leverage this month as an opportunity to seek ways to prepare for disasters and reduce health and environmental risks that come with those disasters.
Emergency preparedness, which the month centers on, is all about what is needed to survive a natural disaster such as a hurricane, tornado, earthquake, flood, or health epidemic. Emergency preparedness can also include the development of plans to respond to a house fire, an extended power outage, or some sort of evacuation (all of which can be common during hurricane season). Many organizations practice safety drills during this time of year. And, the federal government uses this time to remind individuals and families to create emergency plans including building an emergency kit, designing a family emergency plan, and training family members on a communications plan.
September is the most active month for hurricanes
It's probably not a coincidence that National Preparedness Month takes place in September, and September happens to be the most active month for hurricanes. Though hurricane season runs from June 1 to November 30, September tends to have the highest prevalence of tropical storms. And if you want to get more precise, statistically, September 10 is the day where you are most likely to hear about a tropical cyclone somewhere in the Atlantic basin.
But why is September the worst month for hurricanes? The reason is because of conditions related to both wind and water. The wind shear, which is the variation of the speed or direction of the wind over a short distance, tends to fade through June and July. By the end of August, the wind sheet is at its lowest, which leaves the atmosphere for subject to conditions that can lead to a tropical cyclone. The water, at the same time that the wind shear is dissipating, is rising. The sunny days and warm air temperatures along with the moisture in the atmosphere drive up that temperature. And thus, the perfect storm is created.
Recommendations for National Preparedness Month
Ready.gov has put together a list of recommendations on things that you can do to prepare you and your home for natural disasters. September is a good time to consult your insurance documentation to ensure you have the right amount of coverage. Remember that home improvements through the year can necessitate a need for an update to your insurance policy. Also, identify where or not you have flood insurance, and if you need it. Determine if any of your home, health, or alternate insurance policies can and will provide funding in the event you need temporary shelter, clothing, furniture, or other items as the result of a natural disaster.
If you are wondering how to prioritize your activities to plan and prepare for pending storms, FEMA has created these weekly themes.
Week 1 (September 1 – 7, 2019): Save early for disaster costs
Week 2 (September 8 – 14, 2019): Make a plan to prepare for disasters
Week 3 (September 15 – 21, 2019): Teach youth to prepare for disasters
Week 4 (September 22 – 30, 2019): Get involved in your community's preparedness
Start saving extra dollars and squirrel it away for an emergency fund across National Preparedness Month. When it comes to preparing for weather emergencies and other related disasters, financial readiness is extremely important and is often overlooked. Make sure now that your financial documents are up-to-date, organized and in one place, and portable (so that you can take key documents with you) can make a big difference during an otherwise stressful time.
Put together an emergency preparedness first aid kit. Create an emergency plan and review it with your family. Make sure you are signed up for any and all emergency alerts in your area. Learn the evacuation zone for your area and practice how to get there.
Make sure your home is in good repair before hurricane season hits
All homes experience typical wear and tear, but in the hurricane zone, homes are expected to tolerate much more. As such, roofing, siding, etc., can get beaten down much faster than their counterparts in other areas of the country. If your home hasn't been properly repaired from previous storm damage, it is important to get those items addressed as soon as possible. Failure to repair your home will likely result in far serious and costly repairs the next time a summer storm hits.
In addition to ensuring your home is in proper repair, there are strategies that you can take to hurricane-proof your home.
Install impact windows – If you live in the hurricane zone but haven't yet installed impact glass, National Preparedness Month is a good time to reconsider. your window choices. This glass has become a prerequisite for homeowners throughout Florida. These unique windows are made from impact-resistant glass. The glass is then securely installed into the window frame, and id designed to keep heavy rain, hurricane-force winds, hail, and flying objects from destroying your windows and making entry into your home.
Replace wooden doors with Fiberglass doors – There are also impact and wind-resistant doors which are an excellent complement to your impact glass windows. When a hurricane makes its way through the area, debris will fly through the air. And all it takes is one windblown item flying through the air at high speeds to knock down the typical front door. Once the door falls or swings open, additional wind, debris, and water can make its way into your home. This will inevitably mean significant flooding from excess water as well as structural damage from increased pressurization.
Properly maintain your yard – An excellent way to add additional protection to your home is to ensure that your yard is well maintained and in good condition. Be sure that your gutters are cleaned out regularly and are not full of leaves and other debris. Even the best of gutters can fail during hurricane season if they are clogged. Gutter systems are designed to redirect and drain water away from your home. So, make sure that the gutters on your home are prepared to handle potentially heavy rainfall. Also, make sure that fences are properly restored from previous damage and that fence gates are properly mounted and secured. Conduct an assessment of your hard to have any loose or precarious tree branches trimmed or removed before a storm is heading your way.
Consider installation of a metal garage door. A significant percentage of residential home damage from hurricanes starts with wind entry through the doors of your garage. Lightweight garage doors are highly susceptible to flooding and winds and are not recommended for homes that live within the hurricane zone or surrounding areas. If your garage door experiences damage or breaks as a result of hurricane winds, your garage will inevitably flood, causing damage and destruction to anything inside. FEMA even indicates that the loss of garage doors is one of the significant factors that leads to hurricane storm damage in homes. So, make sure that your garage doors are constructed to withstand a hurricane's force. Hurricane proof garage doors, in most cases, are made of steel, and many come with add-on reinforcement posts which can be installed before a storm approaches. These posts serve to keep the garage door intact in the event of hurricane-force winds.
Take time to create a plan for your pets
Make a plan for your pets early on in National Preparedness Month. It is easy to overlook how you will care for your pets in the event of a natural disaster, and pet owners are often caught underprepared when the bad weather strikes. Whatever you plan for yourself and your other loved ones, will likely be sufficient for your pet. Understand that if you determine to your pets behind, they may be lost, injured, or worse. No matter what you do, do not leave your pet chained outdoors, as this will take away their chances of survival on their own. Instead of finding yourself in a situation where your pets need to be left behind, take time to consider your options now.
Identify a neighbor or two that can check on your animals if you are away if you have to travel without them. And, identify shelters that are equipped to take pets in times of natural disasters. This may be more difficult than you realize, however, as many emergency shelters are unable to take pets, and for a variety of reasons. Seek pet-friendly hotels along your evacuation route and keep a list of these locations in your pet's emergency kit. Just be aware that you will not be the only pet owner trying to book rooms at these places, so be prepared that space can fill up fast. Also, look to locate boarding facilities and animal hospitals near your evacuation shelter, in the event you need them. Or, consider friend or relative from out of town that you can bring your pet to when you are on your way to wherever you will be staying, in the event you are evacuated.
Regardless of where you live, it is always advisable to have your pet micro-chipped. This can usually be done for a reasonable charge and is relatively painless for your pet. Once your pet has been chipped, make sure that the chip number is put on file with your local veterinarian, and make a note of the chip number in your own files (including in paperwork that you may have to take with you in the event of an evacuation).
What your emergency preparedness kit should include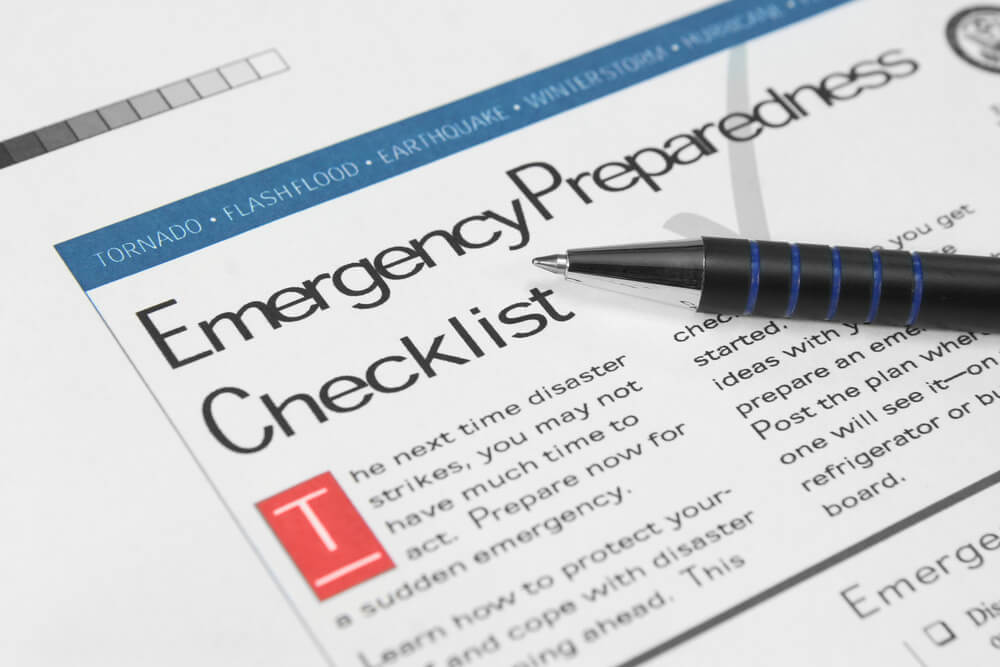 If you haven't yet put your hurricane emergency preparedness kit together, do not put this off any further. National Preparedness Month is the best time for you to get your kit ready! Any family that lives in the hurricane zone should have an up to date emergency kit put together and ready to go at any time (regardless of the time of year). Most of the items that you need for your kit are not expensive and are easy to find.
As you assemble your basic emergency supply kit, store items in airtight plastic bags and place your items in one large easy-to-carry container or bin (use two containers if it makes it easier to transport). In the least, your kit should include the following:
Water – A rule of thumb is that for every person, you should store one gallon of water per day and to maintain at least a three-day supply of water per person
Food – at least a three-day supply of non-perishable (canned or boxed) food
Battery-powered or hand-crank radio and an NOAA weather radio
Cell phone with chargers and a backup battery
Local maps – don't assume that you will be able to rely on your phone's GPS, as often times, signals can be challenged during severe weather
Flashlight – more than one if possible
Extra batteries for your flashlights
First aid kit
Whistle in the event you need to use it to signal attention
Dust mask to protect your from breathing in debris and dust
Moist towelettes
Garbage bags and plastic ties
Wrench or pliers to help turn off water, or in the event you need to get yourself out of a challenging situation
Manual can opener to open canned food items
Taking the time to assemble your emergency preparedness kit now will pay dividends for you later. In the event of an evacuation, having your emergency kits ready to go (and stocked in your vehicles) is vital.
As we sit at the peak of the Atlantic hurricane season, it's important to stay on top of what you need to recover from a catastrophe. If you've got home damage as a result of a storm and you're displaced because of it, reach out to Bulldog Adjusters to find out how we can help you handle the hassle of your home insurance company. Here at Bulldog Adjusters, we work our hardest to make sure that you get the largest possible settlement from your insurance company!