A great new renaissance has taken place over the past 10 years, reviving the metal roof. Metal roofing was found mainly in rural areas at the turn of the century. Most notably, it was known for the sounds of gentle rain on a metal roof sending people to sleep. Aside from that benefit, metal roofing is durable, easy to install, and has a long lifespan.
With that being said, you might be wondering if metal roofing's benefits still apply to areas with high winds, frequent storms, and/or sea spray. Have no fear! Your home can be saved from destruction in severe weather due to a well-built roof alone – even more so when it is protected with quality materials.
These high-risk areas – such as the South during hurricane season – have very stringent building codes to prevent new builds from suffering the damage from historical storms. One of the most notable storms that impacted the building codes of a state is Hurricane Andrew (1992), a storm that revolutionized Florida's building code and roofing specs.
Today, we will be covering the basics of metal roofing, along with the pros and cons that are associated with this particular choice.
High Winds and Roofing
If the area in which you live is known to be very storm-heavy, such as Florida, it is understandable to be worried about how your roofing materials will hold up in these situations. Homeowners who must deal with these climate challenges should be aware of the major roofing flaws that can cause problems when bad weather ensues.
To begin, let's go over some of the key roofing flaws that high winds tend to expose when they come around.
Key Roofing Flaws Exposed By High Winds:
Overhanging eaves
Insufficient bracing
Lack of hurricane straps
Staple connections (instead of nails)
Lightweight shingles/not installed using wind-zone techniques
Steep roof pitches
The first issue with roofing installation that can be exposed by high winds Isi overhanging eaves.
When this component of the roof is extending too far over the edge, they will catch the wind as it blows in either direction. This will make it easier for these sections of the roof to be lifted from the home. In the most severe of circumstances, the entire framing can be elevated from the home, along with the roof sections in question.
Needless to say, this is a very dangerous occurrence and can be permanently damaging to the home, even after the storm settles.
Insufficient bracing is another roofing installation flaw that can cause roof structures to separate from the rest of the home. In addition, if hurricane straps are not installed at the time that the roof is built, the home will be more inclined to experience the same effects.
When roofing material is attached to the top of a home, the most preferable method of attachment is a durable set of nails. However, some roofs are connected to walls with staples instead. This is the least preferable option and will prove to be a roofing flaw when high winds are present.
Lightweight shingles and shingles not installed using wind-zone techniques are also easily lifted in high wind, and even if not torn off, this allows wind-driven rain under the shingles where it threatens damage to the roof deck.
Finally, very steep roof pitches can become a problem when the storms finally hit. With direct wind contact, these roof pitches will basically act like a sail in high winds, lifting off the top of the house.
The Pros of Having a Metal Roof
Metal roofing materials offer more than a few benefits to the homeowners who choose them. When considering this type of solution for your own home, you should be aware of how it can help you stay safe and secure when the weather throws a curveball at you.
Here are some of the good things about having a metal roof!
They keep water out
Durable against flying debris
Resistant to high winds
Can be made from a variety of metals
Can last for hundreds of years
Can be installed over an existing roof
Lifetime system
Low cost with limited maintenance
Protection against elements
Recommended for stormy areas
Less prone to wear and tear damages
Not susceptible to infestation
Energy efficient (can save you money)
Metal roofs have a limited number of seams, so the keep water out very well. The seams are raised so they remain above the waterline as the flows down the roof, even in the torrential rains of hurricanes.
The toughness of metal helps prevent windblown limbs and debris from penetrating it and allowing water to enter through the hole. A properly installed and maintained standing seam metal roof is the perfect option for these type of conditions.
This material has been known for its increased durability. Some metal roofing brands are now making products specifically designed to withstand winds over 160 MPH.
Metal roofs can now be made from a variety of metals including galvanized steel, zinc, aluminum and coated with tin alloy, copper or zinc. Copper roofs are the most durable and can last for hundreds of years, but have become cost prohibitive.
Metal roofs can generally be installed over the existing asphalt roof, adding insulation and reducing costs for removal. This immediately makes metal roofing an increasingly convenient and cost-effective option for homeowners.
High-end metal roofs are now considered a lifetime system, which adds on to the point of this material being cost-effective. In other words, you won't have to worry about paying for replacements any time soon after your metal roofing system has been installed.
Metal roofs have very low life-cycle cost and limited maintenance, as well. So, along with not having to worry about replacing your roofing material, you will not have to spend much time or money on your new roof at all, really.
In addition, metal offers the best protection against the elements and are built with "shedding systems" that remove loose debris, sand, water from the roof naturally in most cases. This is one of the most important features that a roofing material can have.
Even further, FEMA recommends metal roofs in areas prone to hurricanes and high wind. The fact that this material is actually preferred in these situations further attests to the fact that metal roofs are a great, and safe, option for storm-ridden areas.
Metal roofs will not rot, split crack, dry out, chips, warp or leak if installed correctly by a bonded professional. Metal is also not susceptible to rodent or termite infestation, unlike many other popular roofing materials.
The metal roofing system also can help shave as much as 40% off your home's heating and cooling bill as metal roofing has been deemed energy efficient. Metal roofs have been regarded as an environmentally friendly option for years as well. So, if you choose this material, you will get to experience the benefits of a metal roofing system as a homeowner while your environmental conscience thanks you.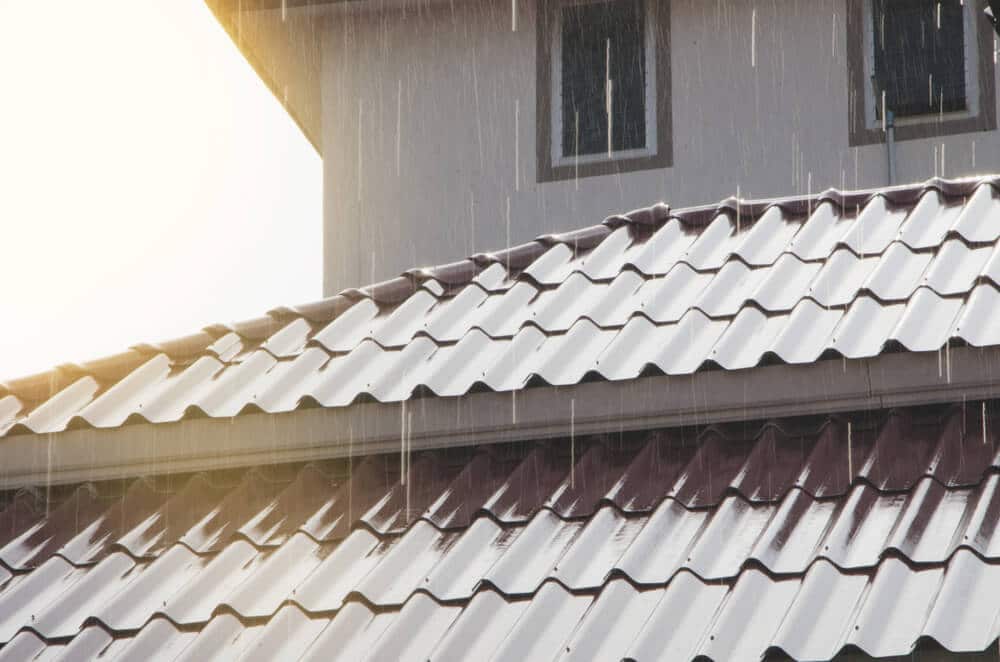 The Cons of Having a Metal Roof
Although there are plenty of wonderful benefits that come with metal roofing, in relation to storm-safety, there are also a few negatives to match. As a homeowner, it is increasingly important to educate yourself on both the pros and the cons in order to understand all of your options and ultimately make the best decision.
The negative points of having a metal roof are significantly less prevalent than the positives, which is a good thing in this case. Nevertheless, there are still some downsides to this option, listed down below, which should always be considered.
The Cons Of Having a Metal Roof:
Galvanized steel variety of the metal roof can corrode when exposed to sea spray or coastal areas.
Due to panel size, if not secured properly, a metal roof can become a deadly projectile in a high wind environment.
Earlier in this article, we mentioned that metal roofing systems are resistant to weather and most damages. While this is true, the galvanized steel variety of the metal roof can become corroded in certain situations.
While metal roofs are less susceptible to the damages that you might experience with another roofing material, you might run into some problems when your roof is regularly exposed to sea spray or coastal areas.
Additionally, a metal roof can become a major hazard that can turn deadly, given the wrong circumstances. Metal roofing systems do a lot to protect homes from high winds and unpredictable weather, but they can be dangerous if conditions become too severe.
To be more specific, metal roofing panels can become flying projectiles when the winds are high enough and the installation was not proper. Metal roofing panels are increasingly large, so when they are not secured properly, they can cause serious injury, if not death.
The Bonuses of Having a Metal Roof
Along with all of the pros and cons that are associated with metal roofing systems, there are a few additional perks that are worth mentioning.
The Bonuses Of Having a Metal Roof:
A metal roof will not increase the likelihood of a lightning strike. If struck, even if the home is not grounded, the metal roof will dissipate the electric charge.
Modern metal roofs have a Class A or UL Class 4 fire retardant rating.
Many home insurance companies will discount your premiums up to 30% if your home is protected by a metal roof.
After Hurricane Andrew in 1992, FEMA and the NRCA conducted a study on metal roofs that failed and metal roofs that withstood the elements. They found that metal roof systems have the potential to be excellent performers in high winds.
Many of the failed roofs in the hurricane were mostly architectural in nature, and the supporting systems were weak, allowing the roof to fail. Post-1992, there is a new national standard for the high winds areas in the United States. A high-wind design and installation guide was developed for metal roof systems.
They also recommended that uplift load capacity should be based on the standard ASTMW 1592 test method to ensure data continuity. As it relates to installation, it is recommended that installers use two clips along eaves, ridges, and hips.
The purpose is to avoid a progressive failure related to driving a fastener into a joint between nailers or into a piece of unknown rotten wood. In addition to the two clip method, it is recommended that Type 316 stainless-steel clips be used for metal roofs in high wind environments. As always, the main recommendation is for the consumer to contract with a professional roofing contractor certified in metal roof installation.
Standing seam, 24 or 26 gauge, Galvalume steel panels offer great resistance to sea spray corrosion. Aluminum and zinc are also great corrosion-resistant options. While metal roofs don't fit in the traditional look for seaside living, they have a lot to offer. The reasons metal roofing works for coastal living are numerous.
Color options are numerous. Textures and shapes are plentiful. Standing seam is most popular, but metal tile and shingles are suitable options. Metal doesn't burn, insects won't feast on it, and aluminum-based roofing or coating (aka Galvalume) will help it resist the corrosion that salt spray can cause on a home's metal roofing.
Typically, metal roofing is rated to withstand winds between 110 mph and 160 mph. As we noted earlier, some manufacturers will carry a line that is specifically meant for the HVHZs in Florida.
With standing seam panels, there is no crevice along the exposed roof for leaks to develop, which is always to concern for tiled roofing, add in the fact that metal roofs usually last 50+ years, the material is 100% recyclable and that cool roof technology significantly enhances its energy efficiency, and it's hard not to call this the top choice for coastal roofing.
All in all, the decision that you make as a homeowner regarding your ideal roofing materials will involve weighing out the pros and cons of each. However, you really can't go wrong with the metal roofing option when you reside in a location that is at high risk for disaster.