As a homeowner, you can find yourself in a lot of tricky situations when it comes to insurance claims and repairs on your home. Whether you have suffered from extreme weather conditions, a natural disaster, or any other kind of unexpected damage to your roof, there is no doubt that you will need to consult a professional and get some help with this process so you can focus on piecing your life back together, rather than overseeing home repairs. Although you will need a public adjuster like the ones here at Bulldog Adjuster to assist you with the claims process, you can hire a roofing contractor to help you replace a roof or repair the damages that you experienced on the exterior of your home.
Roofing contractors are responsible for the task of replacing, repairing, and installing home roofs altogether. They can be brought on board for the most simple fixes all the way to a full replacement. Whether you have suffered significant home damages or you need something cosmetic, a roofing contractor can get the job done for you. Professional roofing contractors will offer you a variety of material choices. They will go forth with completing your desired project to the best of their ability after the initial consultation and the signing of the contract.
When you are looking for a roofing contractor, there are some important tips that you should keep in mind and adhere to before you make your final decision. These can help you avoid some of the most common mistakes that homeowners make their first time dealing with a roofing contractor. When you implement these helpful suggestions into the process of hiring a roofing contractor, you will be more likely to come out with the best possible results.
Here are 7 of the best tips that you can follow for picking a roofing contractor:
1. Ask Around For Referrals
The first thing that you can do when you are in search of a great roofing contractor is to ask around. If you have friends or colleagues that have dealt with a similar situation with their own homes, you can ask them directly if they have any recommendations for you.
In addition, you can consult professionals in another field who might have helped you with another task and can get in contact with a good roofing contractor. It would also be a good idea to check online. A simple Google search for a roofing contractor near you can return several results in your area and provide a great starting point for executing this entire process.
Either way, word of mouth is very powerful in the service industry. While it is true that you can look online and contact the first contractor that you see, getting a recommendation from someone you trust will always be more credible. When others are so happy with the service that they received from their own roofing contractor that they encourage you to hire them as well, you can rest assured that you will most likely be held to the same regard when you contact them for a consultation.
2. Check Reviews and BBB Ratings
After you have gotten a recommendation or any kind of lead on a good local roofing contractor, you should proceed by checking reviews online. If you are dealing with an entire roofing contracting company, you can find them on Google or Yelp and look through the feedback the contractor has from previous customers. They might also have a compilation of reviews from satisfied clients on their own website.
The Better Business Bureau (BBB) is another reliable place to look for reviews. If the company is BBB accredited, they will have their very own page on the website, where customers can post formal complaints against them. Online reviews are a great way to confirm that the roofing contractor you are looking at is legitimate and will provide a good service, but the BBB comments and complaints will tell it all.
If the company or contractor that you are considering has scammed others or provided a less than satisfactory experience to previous customers, you will find out about it here.
3. Look For Necessary Licensing and Insurance
When it comes to hiring a roofing contractor, you always want to make sure that they are licensed to work and that they have the proper insurance coverage. This will keep you clear of any legal issues or liabilities when they are working on your roof.
Not only should you simply ask for this information, but you should have them verify it with actual documentation. If you do not check these certificates, you run the risk of being scammed in the long run. No matter how friendly and personable your potential roofing contractor seems to be when you speak to them initially, always cover yourself by verifying that they are legitimate before you sign anything and hand over your money.
4. Make Sure To Pay Your Insurance Deductible
When you suffer damages to the outside of your home and need repairs that can be completed by a roofing contractor, you will also need to pay a deductible to your insurance company, along with the separate amount that you will be paying the actual contractor.
This is a step that should never be skipped, and your contractor should never encourage you to do so, either. When you have a roofing contractor that tells you it will not be necessary to pay your insurance deductible, or that they will take care of it for you, you should immediately go in another direction.
These types of contractors are committing insurance fraud when they try to get around the deductible payment in any way. This is something that you should be aware of and be able to detect right away, to avoid getting in any trouble yourself.
5. Don't Let Your Roofing Contractor Handle Your Claim
In addition to not allowing your roofing contractor to pay your insurance deductible or deter you away from paying it, you should never let your roofing contractor handle your claim. The roofing repair process is completely different and separate from that of a claim.
Your roofing contractor will not be prepared or qualified to get involved with your insurance claim in any way, and this should be avoided at all costs.
6. Educate Yourself On Material Choices
Before you even consult with a potential roofing contractor that you would like to hire for your home project, you should do your research on roofing material choices. A good roofing contractor will always lay out all of the options for you, in order to give you the opportunity to have the best possible pricing and overall results.
If you are talking to a roofing contractor that only gives you one option for materials, they are most likely holding back on the best-priced option for one reason or another. Either way, this demonstrates a lack of honesty that will reflect in the contractor's work and is something to avoid.
7. Proceed With Caution and Don't Sign Anything Prematurely
Last but not least, you should proceed with caution when you are looking to hire a roofing contractor. Don't let the contractor pressure you into hiring them and starting the process before you are comfortable doing so. You should only sign the contract and pay money to the contractor when you feel like you have found the most ideal option for your individual needs.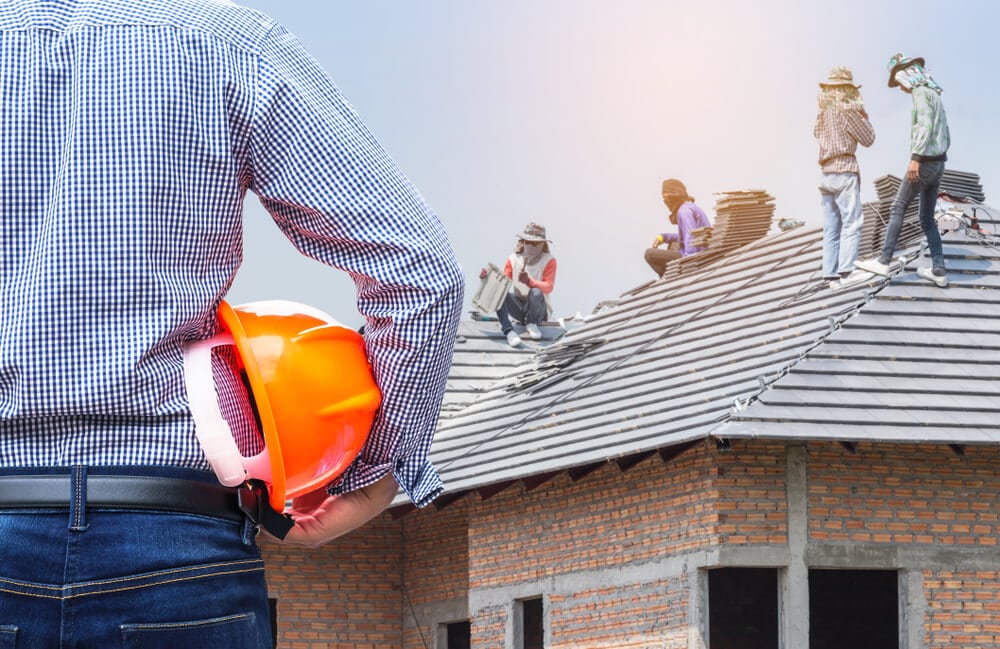 Questions To Ask Your Roofing Contractor
The process of finding the most ideal roofing contractor can be a long one, but it will all be worth it in the end when you find someone who is just as legitimate as they are qualified to get the job done. When you are thorough in your selection, instead of just finding a recommendation and going with the first option that you see, you will be rewarded with quality work and a lot of stress taken off of your back in the long-run.
With that being said, there are a few questions that you should ask your roofing contractor before getting started working with them. While it is true that you can narrow down your search to some pretty qualified candidates by utilizing the tips that were previously described, you will confirm that you are both on the same page moving forward by asking these questions.
Here are some questions that you should always ask your roofing contractor before you hire them:
What is your official company name and business address?
Do you use any subcontractors for roofing?
Do you offer a warranty on your roofing work?
First and foremost, you should be asking your roofing contractor for their official company name and business address. This will help you to verify that the company is legitimate and holds the current licensing requirements.
Next, you will need to ask them if they use any subcontractors for the roofing process. A subcontractor is someone who is brought in by the original roofing contractor and will complete some or all of the work on your roof. It is important to look into the subcontractors just as thoroughly, making sure that they are licensed and insured to avoid any potential liabilities.
Finally, you should ask your contractor if they offer a warranty on their roofing work. When it comes to roof warranties, there are usually two: one from the manufacturer and one from the contractor. These separate warranties will cover the materials, as well as the work that was performed.
Most warranties on roofing last for approximately one year and will be good for any additional repairs that are needed due to faulty materials or sloppy work. It is always beneficial to have a warranty as a homeowner so that you can get the most out of your money and avoid contractors who want to get paid for minimal work that will not hold up.
The Characteristics Of The Perfect Roofing Contractor
As you can see, there is a multitude of factors that must be considered when you are choosing a roofing contractor. With all of the dishonest people that do not have your best interest in mind, it can be difficult to navigate the murky waters of roof installation.
While it is important to keep in mind all of the helpful tips that were mentioned while picking a roofing contractor, while asking all of the necessary questions, it also helps to have a clear vision of what a great roofing contractor should be.
There are a number of characteristics that a solid roofing contractor will possess. When you look for these traits in your potential hire, you will be much closer to finding the perfect roofing contractor for your individual needs.
These are some of the characteristics of the perfect roofing contractor:
Honesty and integrity
Transparency
Good communication
Helpful and enthusiastic
The perfect roofing contractor will always display honesty and integrity in every interaction that you have with them. An honest roofing contractor will present you with all of your options when it comes to materials and will tell you exactly what the service will cost you from start to finish. A dishonest roofing contractor might only inform you of the most expensive service option, or try to drag out the duration of the job in order to get paid more in the end.
This goes hand in hand with transparency, which is a characteristic that every good roofing contractor should have. They should always be open with you when they are discussing how long the job will take, and what will need to be done.
Communication is a must for any roofing contractor that you hire. You will need to have adequate correspondence with them, and know exactly what is going on with your project at all times.
All in all, your roofing contractor should be helpful and enthusiastic about their job. The person that you ultimately decide to hire should actually want to get this task done for you in a quality and efficient manner, instead of just trying to get one over on you. If you follow the tips that we outlined today, and ask all of the necessary questions, you will be on your way to finding the perfect roofing contractor for your needs.