How can you protect your roof from hurricanes? A slow-moving force of powerful wind and endless rain that can form too fast for many people to be prepared for it, hurricanes can be very devastating. They can and do destroy everything in their path, from houses to cars to trees.
Every year, the US gets hit by an average of 13 hurricanes. These massive disasters cause millions of dollars worth of loss and damage.
While you can't precisely predict the "hurricane season" down to exactly when and where the next storm will hit, you need to be ready for it.
One way that you can be prepared for hurricane season as a homeowner: make sure that roof is in working order and secure before such a storm hits.
Your roof protects you and your house against hurricanes by acting as a barrier between you and the storm. If the roof is not stable enough, the hurricane will be able to destroy it, something that will result in massive damage to your home and increase the potential for injury or even loss of life.
This is why it is essential to have a durable and reliable roof that will reduce that risk.
Here are some tips on how to prep your roof for a hurricane:
Call Professionals For a Complete Inspection
According to most experts, homeowners should get their roofs inspected every year, especially before and after storms or hurricanes. Regular inspections are vital to ensure the roof is stable and able to bear harsh weather conditions.
While roofs last ten to twenty years, they need regular inspection to keep them maintained. While you have the option to inspect your roof on your own, it may not be the best choice considering the risks involved.
First of all, you may not know the signs of a damaged roof. As a result, you may not be able to recognize its actual condition.
Plus, getting on the roof can be very risky to the inexperienced thanks the height of the roof, improper use of ladders, and the presence of electrical wires, broken shingles, etc. on top of the roof. These things can all lead to tragic accidents, so it is best to let professionals take care of things.
Most roofing companies offer inspection services. They will carefully check every corner of the roof and prepare a report to help you understand the condition of your roof.
This report can be very beneficial to help you with a potential insurance claim as it highlights the nature of the repairs needed to restore the roof. Insurance companies may not accept your opinion as valid in the event of filing a claim, and you will eventually have to hire the services of a professional to satisfy their needs, so why waste time?
Perform Repairs As Needed
The roofing company you hire will explain the nature of the damage and the repairs needed. Don't waste any time performing any repairs that the roofing company may suggest.
The roofing company you use for the inspection will also provide a quote with the report. You may survey the market and request quotes from other providers if you are not satisfied with that roofing company's prices.
Everything from a loose or broken tile or shingle to a leak has to be repaired. This is because one damaged shingle can lead to more damaged shingles if not taken care of in time.
Additionally, even a small leak can cause water to seep deep into the structure, leading to structural damage that can be very difficult and costly to repair.
If the roof is ancient, then the roofing provider may suggest the roof be replaced entirely. It can be costly and take a few weeks to complete.
Clean The Roof
Hire a roofing company to clean the roof and take care of the pipes and gutters.
Debris can get stuck in the gutters and cause blockage, which may prevent rainwater from flowing smoothly. This water can accumulate and intrude into your house, causing huge losses.
While you can perform the job on your own, it can be risky to climb the roof. This is why it is best to let professionals do the job for you.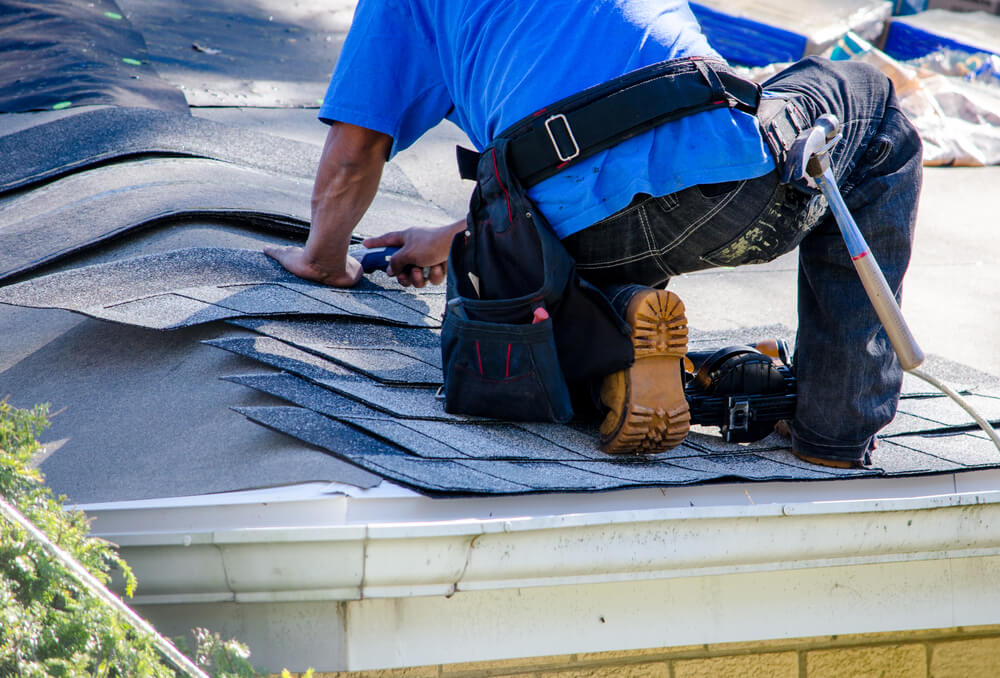 Review Nearby Trees
It is common for trees to grow big and provide shade to the roof. While it may look aesthetically pleasing, it can be a potential hazard for the roof in the event of a strong storm.
During a hurricane, the powerful winds can cause branches to get torn and fall on the roof. They may also fall on nearby objects such as vehicles, leading to severe damage.
This is why it may be a good idea to trim all hanging and weak branches. A timely trim will protect not only the roof but also other objects around the house.
You may perform the job on your own. However, you may want to hire professionals for the job as you may have to climb the roof or trees to ensure all branches are taken care of.
Remove Other Threats
Review the property and remove all yard furniture, roofing equipment of tools remaining on the roof, and any other objects with the potential to become flying projectiles prior to the oncoming storm. You can tie them down outside or move the items indoors to a safe space out of the way.
Additionally, you may also have to take care of the fascia and soffit boards on the roof. They may need repairs, especially if the wood around the boards has rotted. Your roofing company's inspection should cover what repairs may need to be done here as well.
The Roof Deck
The roof deck plays a vital role in protecting your home against rain and high winds. It must be checked regularly to ensure it is fastened correctly and can handle the pressures of a hurricane's extreme weather conditions.
Make sure the deck is thick and properly installed to ensure it can prevent water from entering your property
. You can also perform upgrades such as creating a sealed barrier for more protection from the wind and rain that will come in the event of a hurricane.
At the end of the day, it is best to speak to a roofing company about what all can be done to prepare your roof for the hurricane season.